Propper ACU Trousers In A-TACS AU
Operator7
27 Jun 2012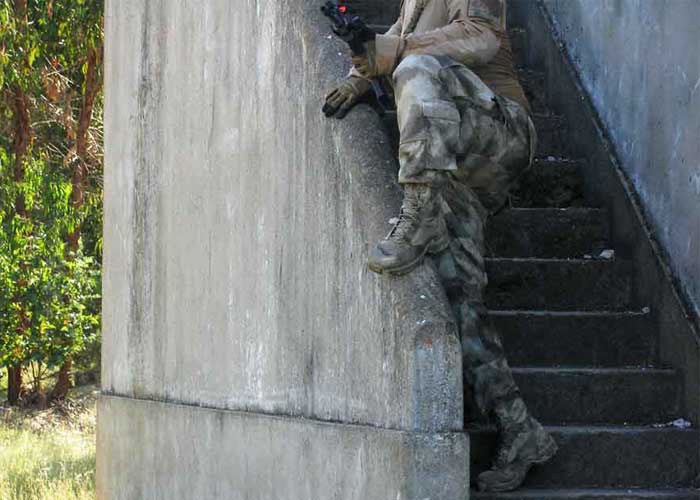 The A-TACS concealment solution is one of the most popular camos in the Military and thus in the Airsoft world. The science behind this pattern can be taken down to the size of a pixel, where the people behind this solution looked for a more organic pattern that would have a more natural appearance, thus blending in better.
So they eliminated all 90 degree angles and square pixels, replacing them with the organically shaped ones, and segmenting these in groups organized within the pattern.
These apparently random groups of different colors then form the A-TACS camo. They call it a "pattern within a pattern" and its complexity helps to better deceive the human eye and blend in most scenarios as you will see.
Thanks to Crypsis, I've been wearing these pair of trousers out on the field during the past month and my experience has been quite positive.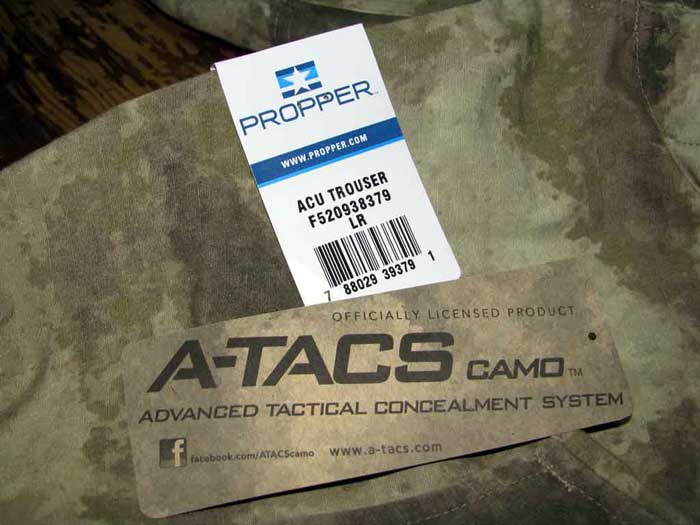 CONCEALMENT
As you might see from the photos, the A-TACS is a pattern that works great on urban and rocky scenarios due to the predominant colors in the A-TACS AU camo, in these areas seems to result in a greyish tone that blendsin very well.
In urban settings, however, the organic organization of the clusters of different colors tend to stand out a bit from the more organized tonality of buildings and walls, but the coloring is great, it's just the groupings that stand out.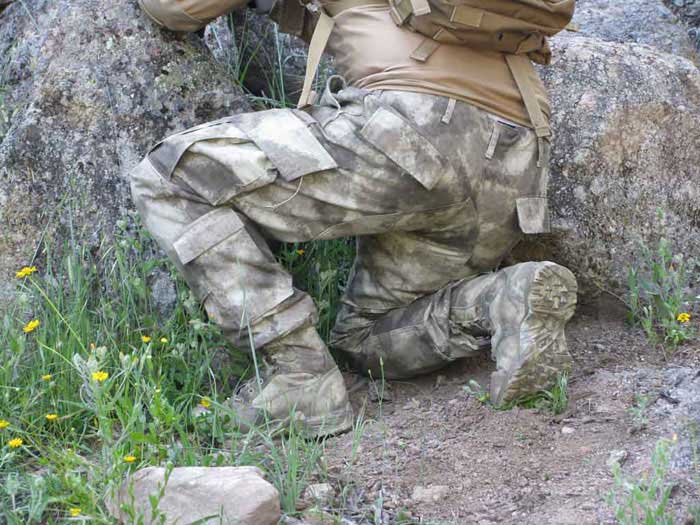 Where I've seen, and you can see it working to perfection, is on rocky scenarios with little or no vegetation. Here the blending is almost perfect and if you have a full A-TACS loadout you'll get near perfect concealment. The only setting I was unable to test the camo was in an arid location where it should work out just as great as in a rocky one since the base neutral color is tan.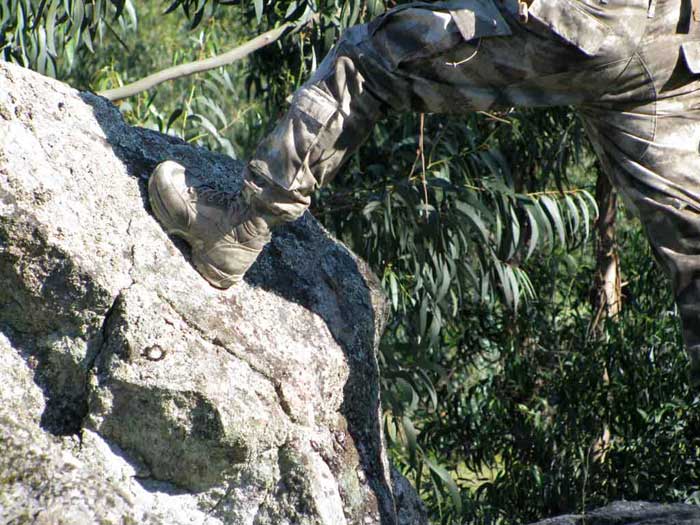 Although this camo works better on the previously mentioned environments, I've found it to work very effectively on fields where the vegetation is quite dry, presenting light brown and tan colors with shades of green. In fact, if you look closely, A-TACS includes green groups that help it to blend in with more environments. So it works great with dry vegetation in hot weather scenarios as you can see in the photos.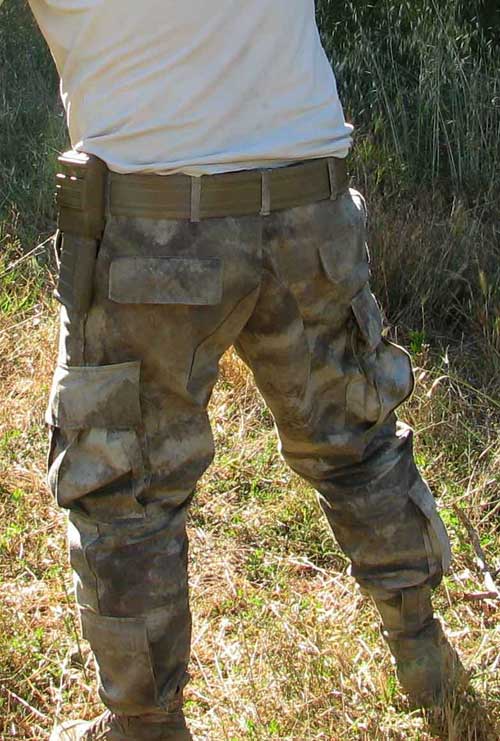 Again a full loadout in the same camo is optimal and with A-TACS you will have great concealment in these areas, but it's not the only thing that counts.
FEATURES
Now let's see if these trousers have what it takes to make your life, and in some cases your job easier.
One of the things I mostly appreciated is where the buttons that Propper included on most of the pockets (except for the shin pockets) spread out along these ACU trousers. These help me remain silent when reaching out for an item stored in one of these pockets, because as we all know, Velcro can get quite loud!
However buttons do have a shortcoming, especially if you are wearing gloves: they make it harder to open those same pockets. So either you train yourself to open these with your gloves and feel ok with it, or you are going to lose a lot time opening them and focusing for too long on something else rather than what's around you, and you might sometimes end up having to remove your gloves just to open the pocket.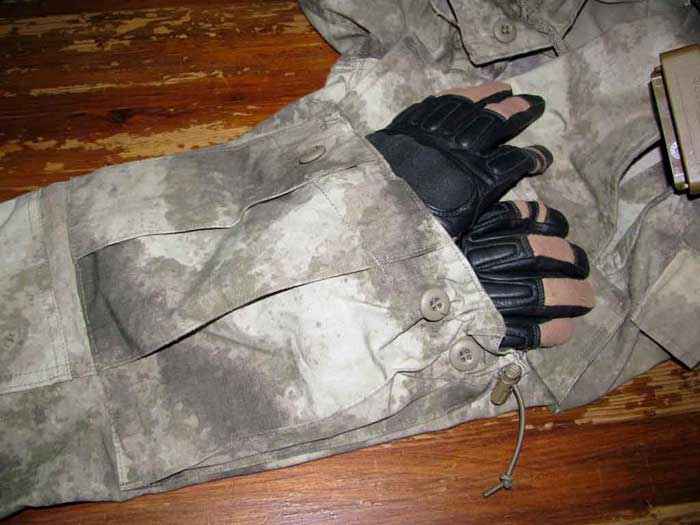 Nevertheless, these buttons are large enough and well separated so you'll only need to open one to reach the items inside your pockets, especially on the main cargo pockets.
These main leg pockets, or cargo pockets, have three buttons instead of just the traditional two, which used in combination with the adjustable strap systems provide more or less storage depending on your needs, adding more or less bulk to the sides of your legs.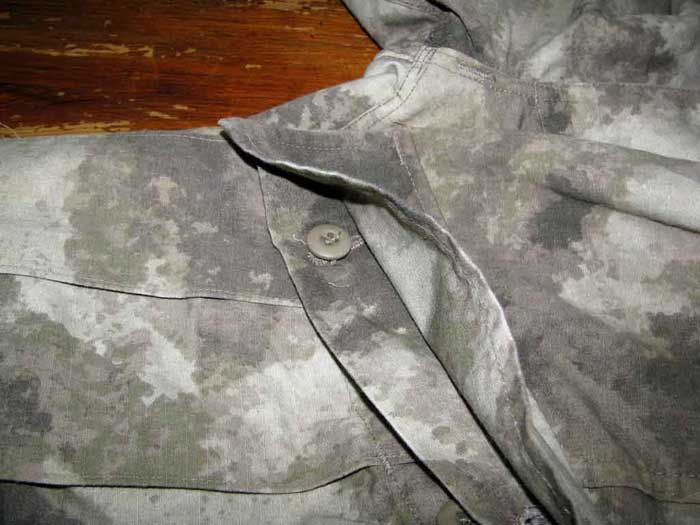 Apart from these pockets, these trousers feature the regular hand pockets and a couple of small pockets on the bottom of each leg near the shin, adding up to eight pockets for storage, which is great!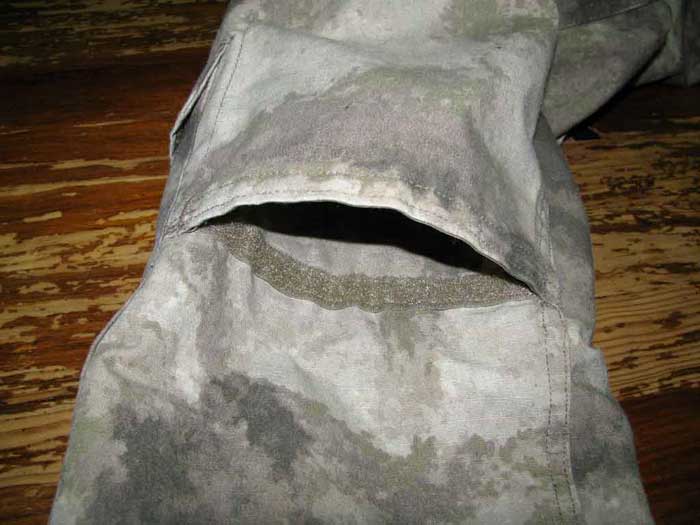 Just below, on each leg there is a drawstring to tighten the trousers around your boots.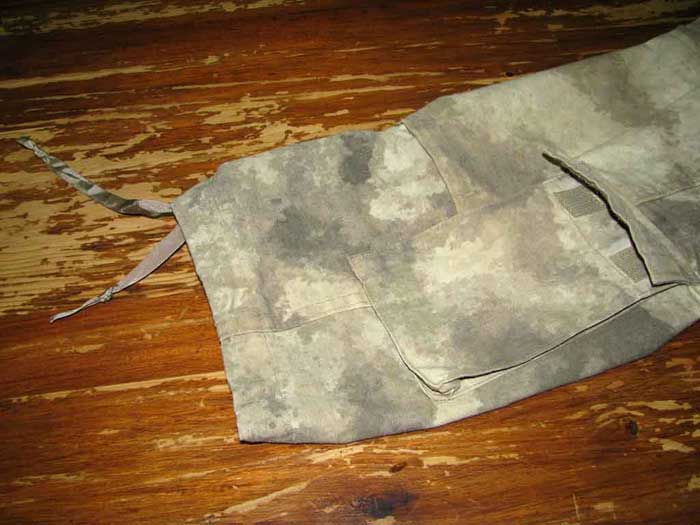 Also on the back pockets and fly area you'll find buttons. Like the usual, there is a drawstring on the waist that will allow you to better adjust the fit of the trousers.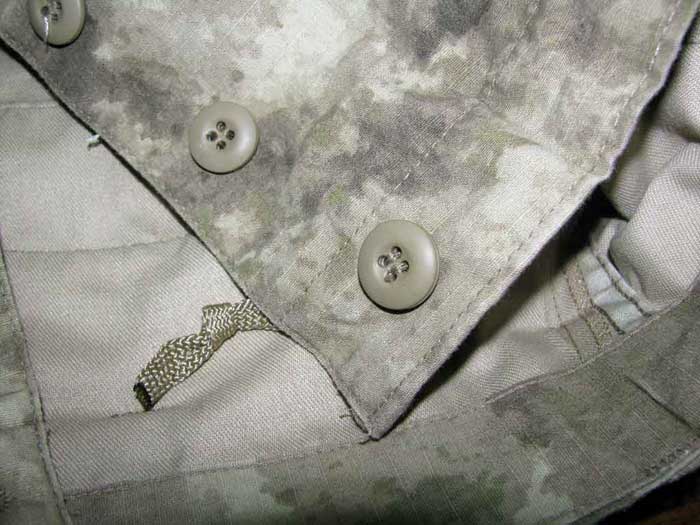 Another welcome features of these pants are the external knee pouches that will allow you to insert some knee protections and these have a hook and loop closure. Personally I prefer these inserts to the outer kneepads since you barely notice they are there and those won't have the tendency to slide down your leg like the external ones do. And they are usually a lighter solution too.
The knee area is also reinforced with a second layer of the Rip-Stop fabric. Another reinforced area is the seat area.
The fabric is also resistant to shrinking and is vat-dyed to minimize fading, which will occur overtime. Here, I did notice some fading after the first wash (they were hand washed) but in the subsequent washes that didn't happen anymore.
Another point is if you intend to use these pants for night activities were you'll need low IR signature clothing, the A-TACS model of the Propper ACU, unfortunately, are not NIR compliant. NIR-compliant uniforms use a special fabric that allows soldiers to appear at the same radiation level as the surrounding terrain. So unless you really need this particular feature for milsim training or other military and law enforcement activities, it's almost certain you won't be needing this for Airsoft, though it's always a nice feature to have.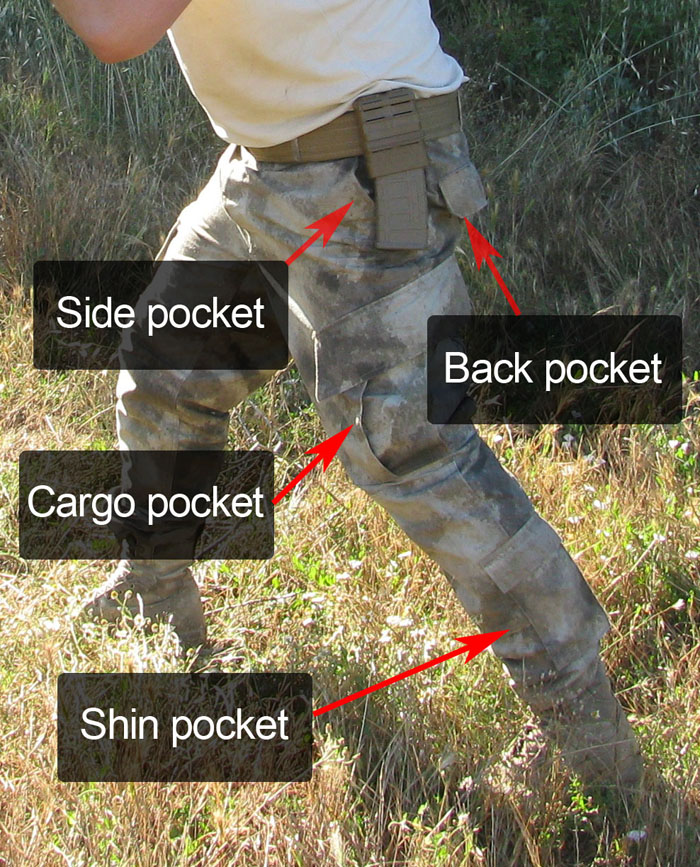 COMFORT
Just as you'll read below, these trousers are not only light, or at least lighter than the cheaper ones, their fabric is also very comfortable to wear, not being too rigid and aggressive to the skin.
The various adjustment options will also help you to get a better and comfortable fit, but you must be careful to choose the correct size. And take my word that it's better to get the correct size than to have a pair of trousers that make you feel uncomfortable.
So if you are buying this type of gear over the internet, always try them on as soon as they arrive. Don't remove any of the tags, unless you are satisfied, and if you are not ok with the fit return them and ask for another size.
I can tell you that running around the field for several hours a day is easy with these pants, they are comfortable and don't get in the way of my movements and even provide some protection from some of the nastier vegetation. :)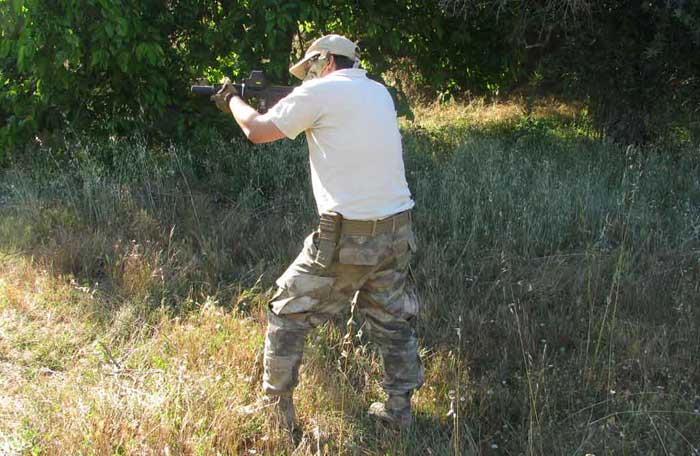 QUALITY
In terms of quality, these are sewn to military specification, so every stitch will endure a lot of beating, and they are made out of Polyester and Cotton which is designed to be lighter and softer than the Nyco (Nylon/Cotton) ones that they also offer. And of course they are in Battle Rip, which apparently is another name for Ripstop.
From my experience on the field where I rubbed and dragged these against rocks, dirt and vegetation, the fabric holds up nicely and I still have to see any rip or wear issues with the trousers.
CONCLUSION
As far as airsoft demands go, the Propper ACU trousers in A-TACS meet and exceed these demands. They've also shown to be very adjustable providing optimal fit, and they are lightweight and comfortable to wear during a game or practice so I can say I am very happy with how these trousers look and feel.
The A-TACS camo, which I am a huge fan of, also provides great concealment and blends in very well in most terrains, even in some you wouldn't expect it to.
When using these pants with other A-TACS gear, such as the Danner TFX Rough-Out GTX A-TACS I reviewed recently, the pattern match is near perfect and together they offer even greater concealment and some very cool looks!
The Propper ACU pants in A-TACS are available from Crypsis for just 54.40€ ($67,99), and if you want the complete kit, you should also get the TAC U Combat Shirt in A-TACS.
Pros
Great concealment properties
Adjustability
Light and durable Poly/Cotton fabric
Cargo options up to eight pockets
Buttons instead of Velcro
Knee inserts
Cons
Some fading after first wash
NotNIR compliant