Spartac Entry Level Kalashnikov AEGs
Operator7
01 Apr 2015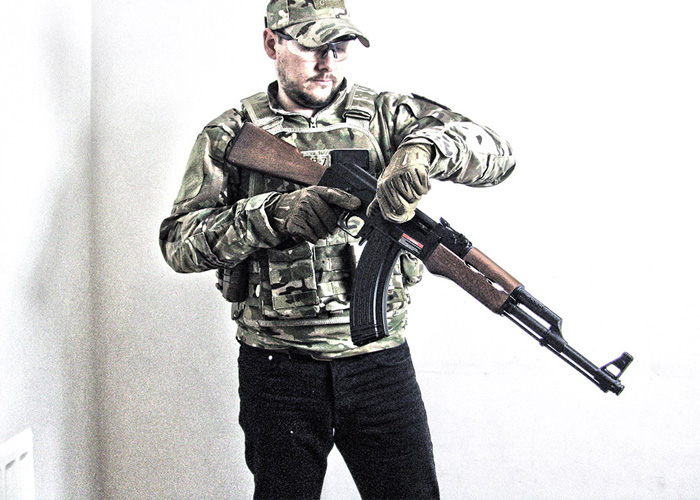 When the guys at Gunfire invited me to review a couple of all "plastic" entry level AKs I was a bit concerned about reviewing them since they didn't seem like the type of gun for an experienced Airsofter, rather a novice Airsofter. However, and since our community is large and broad, and there's always new people coming into the sport. So I tried to put myself in their shoes and analyse these guns without any previously formed concepts and also from the standpoint of someone in a budget that was trying to get their very first Airsoft gun, and perhaps not quite sure if they liked the sport.
With all this in mind I think you'll be surprised with my conclusions, so do read on!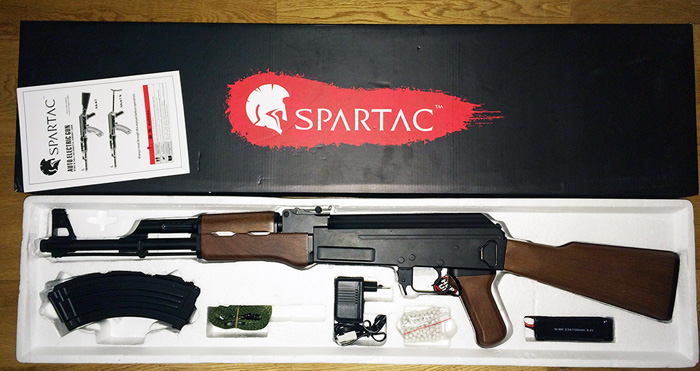 EXTERNALS, QUALITY AND ACCESSORIES
This is where my very first doubts and fears lied, but I tried to clear from my memory all the years of using and reviewing nice Airsoft replicas, many of them top of the line AEGs that most starters on a budget won't even think about buying.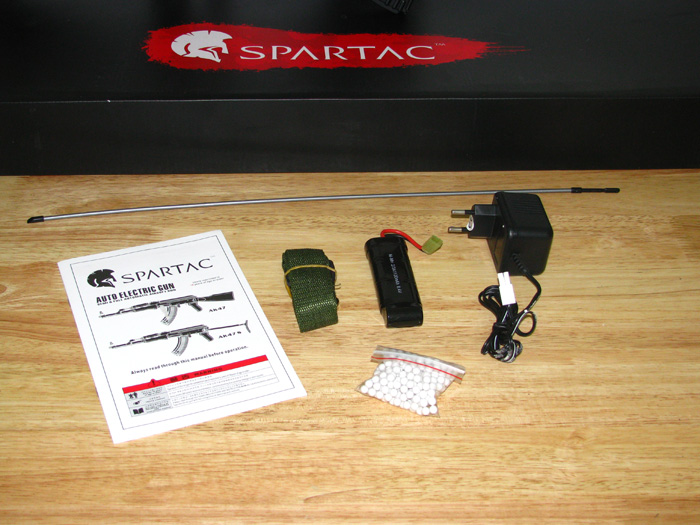 Heck, most of them don't even know if they like the sport, they really just "wanna shoot some BBs" and check what's all the fuss about this Airsoft thing that made them step away from their Xbox Ones over the weekend, when they could be at home playing Battlefield 4 or Call of Duty Advanced Warfare or something along those lines.
So let's imagine you would eventually see a SPARTAC AK at Gunfire and the price was inviting.
A few days later the postman would deliver your gun (depending on your country you could have import restrictions, but let's assume you live in Europe and are over 18 or have your parents' permission).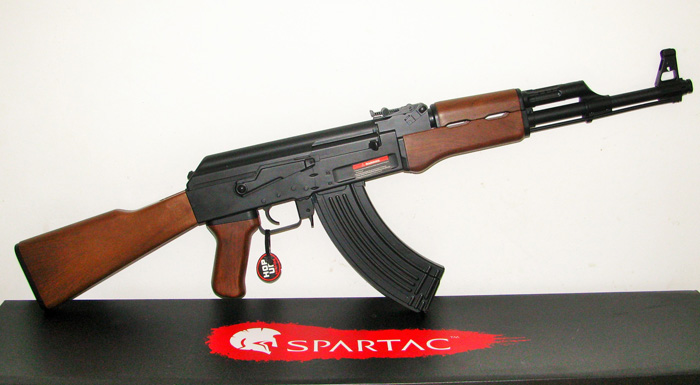 Now you open the package and see a nice black box with huge red logo with "SPARTAC" written on it. Then you open the box and see a whole set of stuff that's needed to get you started: an 8.6 NiMH battery, a battery charger, some BBs, an unjamming rod, a hi-cap magazine, a sling, and even some paper targets. You even have some instructions. Not bad.
You proceed to inspect the gun and pick it up and it feels nice to the touch (remember you've never held an AEG so how do you know what an AEG feels like. You only saw them on YouTube), plus it's lightweight. I too saw an Airsoft gun first on YT and only after buying it online handled one for the first time!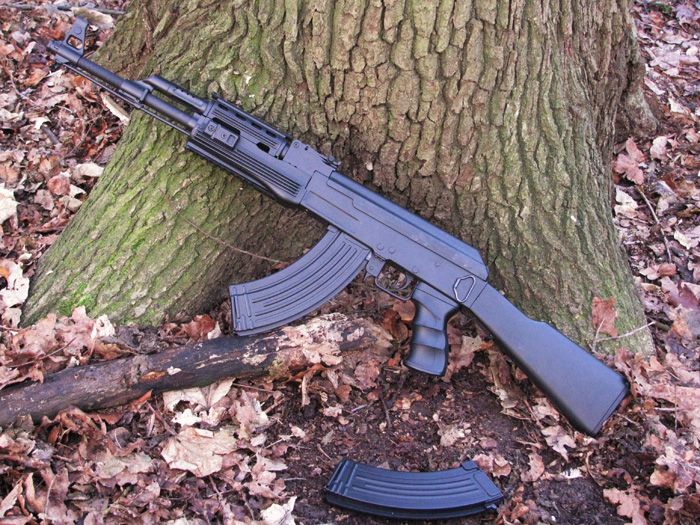 You charge the battery, get some BBs and an extra hi-cap mag, join some buddyies, and go out for some fun to a local skirmish site were the gun is chrono'ed.
Okay now, let's stop here for a while, and put back on the Airsoft Veteran's hat, and especially back to this review:
I basically got two guns from Gunfire: a wooden effect one and a tactical AK (which is my kind of AK), the latter came in an unbranded box and had an issue with the charging handle which was broken out of the box, the plastics were somehow a little creaky, especially in the grip.

However, the wooden effect one came in a box with the Spartac logo and presented no creaking plastics whatsoever. The whole construction and build quality seems a notch up over the tactical one. Perhaps gunfire sent me a pre-production sample of some sort, or perhaps it's just me? But definitely the way the first was put together seemed better.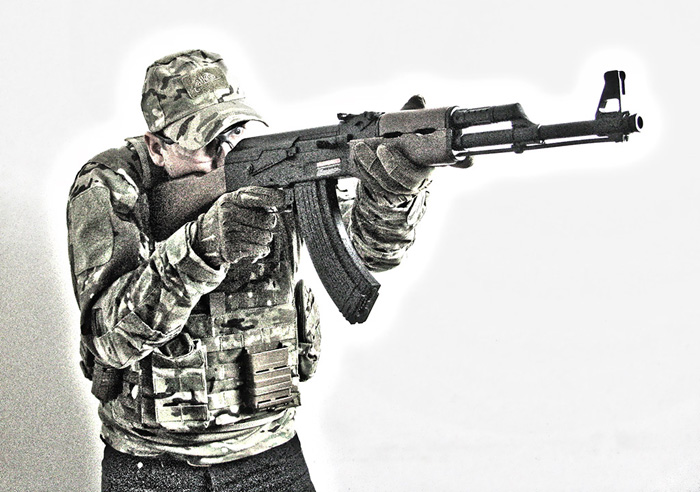 I had no idea, so I decided to take the "weakest link" out to the field and test it. And test it hard.
And so I did: on a cold winter day, with lots and lots of mud, me and my mate went all the way to Essex to play some Airsoft. And I used the tactical AK the whole day:
I threw it to the ground in front of my mate and I even stepped on it, and we both saw it bend and go back to its original shape, thanks to the plastic properties it's made of. And then I played some more Airsoft, until I completely ran out of battery, using the stock 8.4v.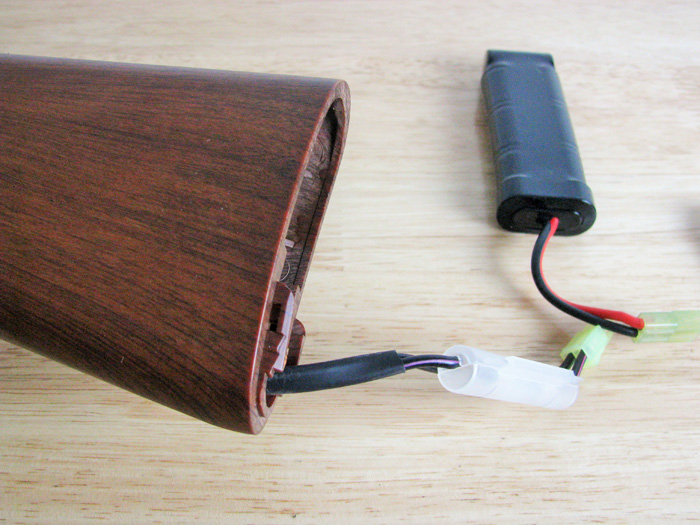 Interesting point: I was having genuine fun with this plastic entry line AK, right until the moment the battery stopped working because I had put so many shoots down that barrel that the small 8.4 volt battery just didn't have any more juice left in it.
And then I realised and remembered something that sometimes we all forget that Airsoft is not just about the bling and using the most expensive gun and gear. It's really about having fun and shooting some random people we just met in the safe zone, do some exercise, hang out with our mates and get some fresh air.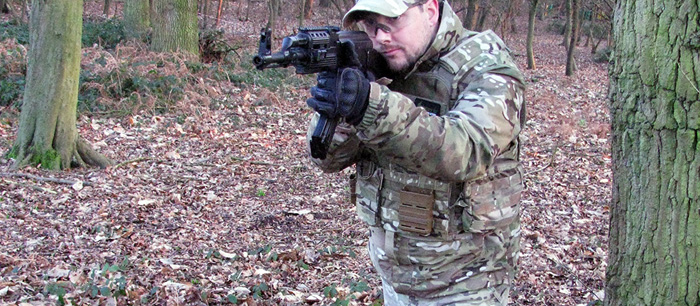 You don't need a 1,500 pound AEG for this, although it does add to the pleasure of doing all this. But still you can have just the same fun with an 80 pound gun.
But don't get me wrong, not all 80 pound guns will fit the bill, as there are many cheap entry level AEGs out there that just won't cut it.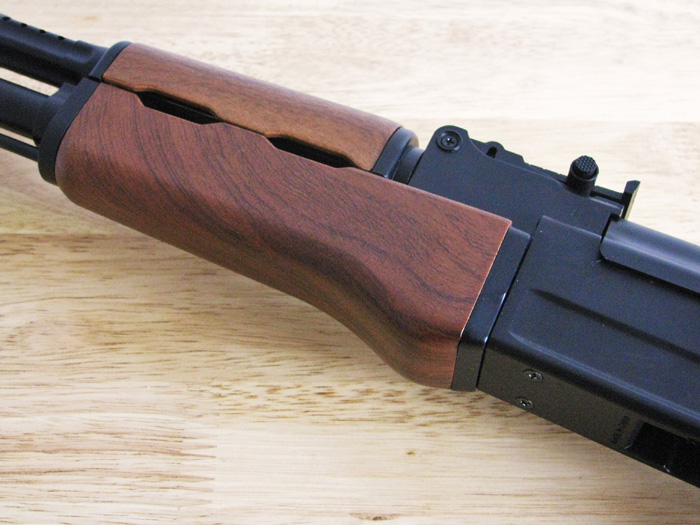 Now, in terms of externals as I mentioned, everything, with the exception of the outer barrel and few bits here and there such as the fire selector and the sling mount, is plastic.
Some of the plastic parts I gather you could very well replace them in the long run, such as the front sight, and others.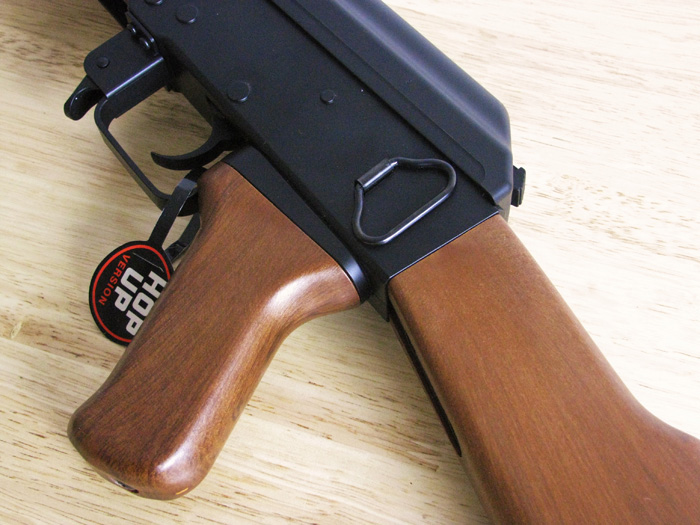 The AK that has a wooden effect, is really nice to look at and you see it looks great in the photos and in real life it's even nicer to look at than in the photos. The wooden effect plastic is also solid and has no wobble whatsoever, which is nice. The plastic body is nice and solid, not Magpul quality, but solid.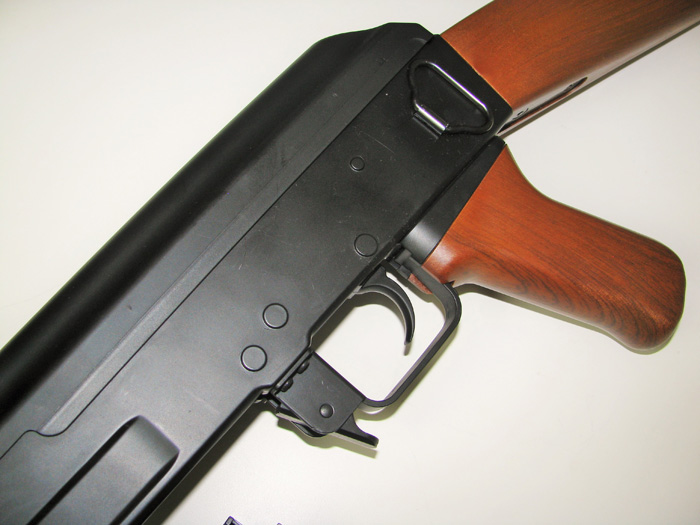 The part I think that seemed to me a bit more fragile was the top body cover --- it doesn't seem to be as solid as the rest of the material. It could be the same plastic but it just feels a bit more malleable and flexes a lot more, which is not entirely a bad thing as I mentioned that plastic is able to flex a lot more than metal and then regain its original shape. Plus, these guns get really easy to run with all day since they're so lightweight.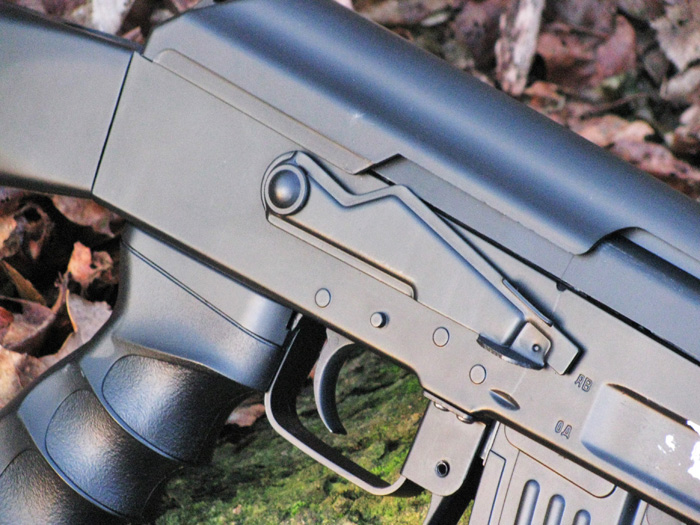 Each gun comes with a high cap plastic mag which does the job, a nylon OD sling which is easy to attach on the included metal sling points, BBs and an unjamming rod. Plus the 8.4v battery which I only used once and now I've been running on a 7.4v Lipo which is very well tolerated, except it dropped the rate of fire slightly.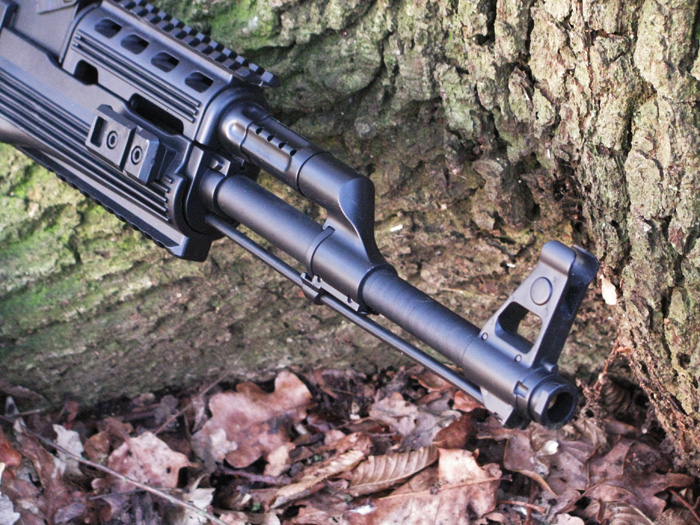 INTERNALS AND PERFORMANCE
Now here is what this gun surprised me: it might not be a performer when it comes to rate of fire or have high end externals, but it is quite accurate and has a very respectable range straight out of the box.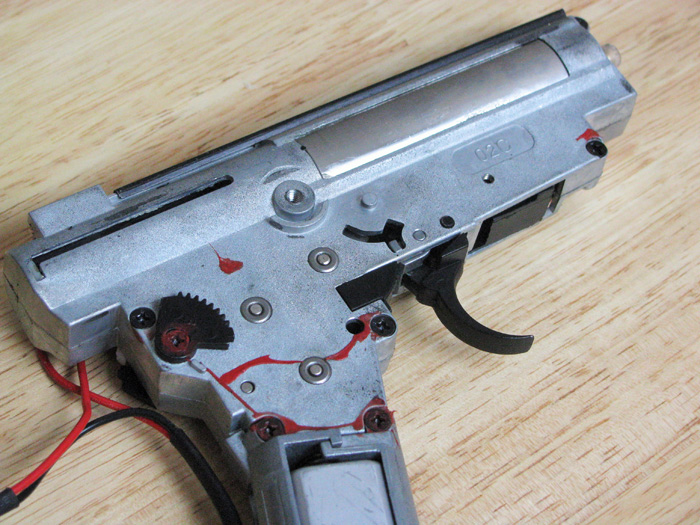 You can actually see the BBs going downrange in a very consistent way and trajectory. And range wise it's very easy for this gun to reach a target at around 35-40 meters (around 130 yards) using 0.20 gram BBs.
So much I even asked a friend of mine this Sunday to try it for a game, and then tell me his thoughts on this "plastic" AK. He owns a Tokyo Marui Recoil HK416 and was amazed at the range and accuracy the Spartac AK produced! So much he's probably going to get one to have as his backup gun.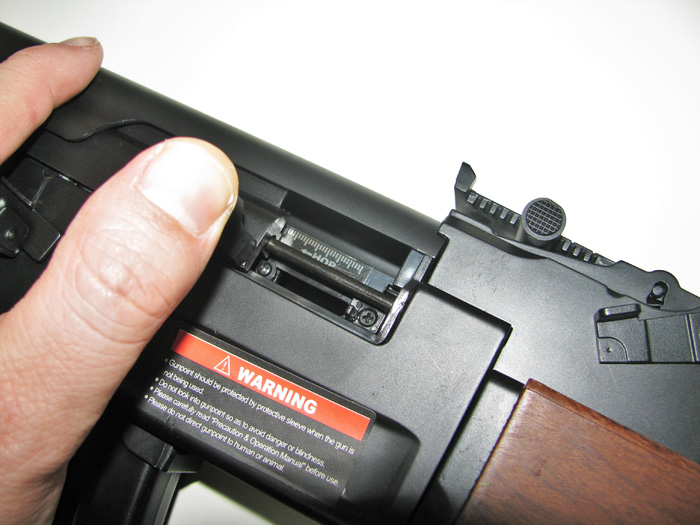 Regulating the hop-up is very easy, since you only have to push or pull the small tab, and unlike some M4s it won't budge, even after several games.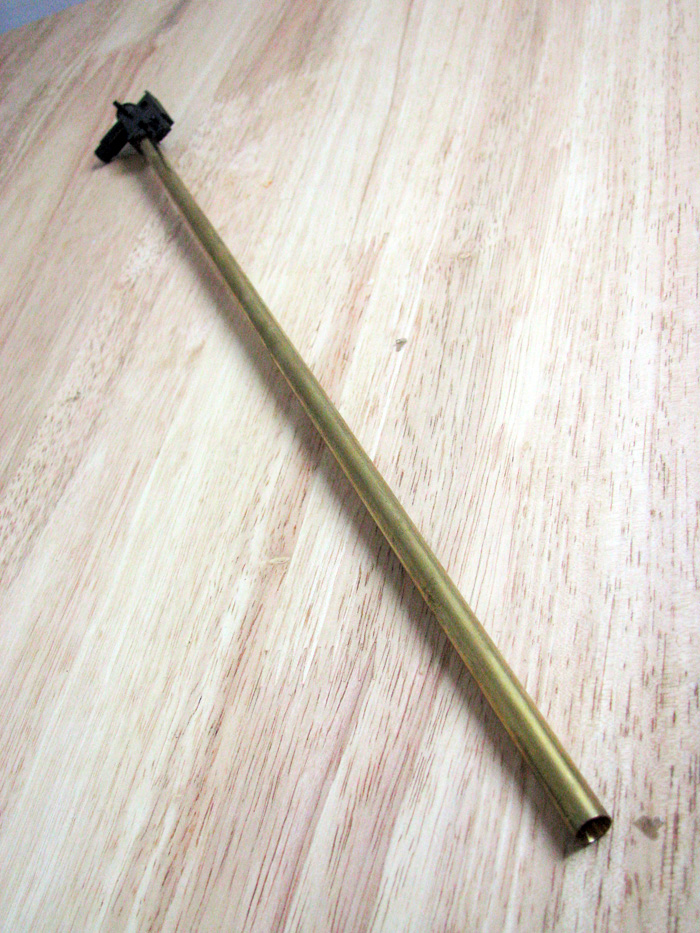 The inner barrel is quite long, as it is almost 455mm, which helps explain the accuracy and range of this AEG. But it's not just that and if the externals are mostly made out of plastic, internally everything changes and metals are predominant. The gears, bushings, cylinder nozzle, cylinder and anti-reversal latch are all made of metal. Only the tappet plate, nozzle, spring guide, piston head and piston are plastic, being that the first tooth of the piston is also metal.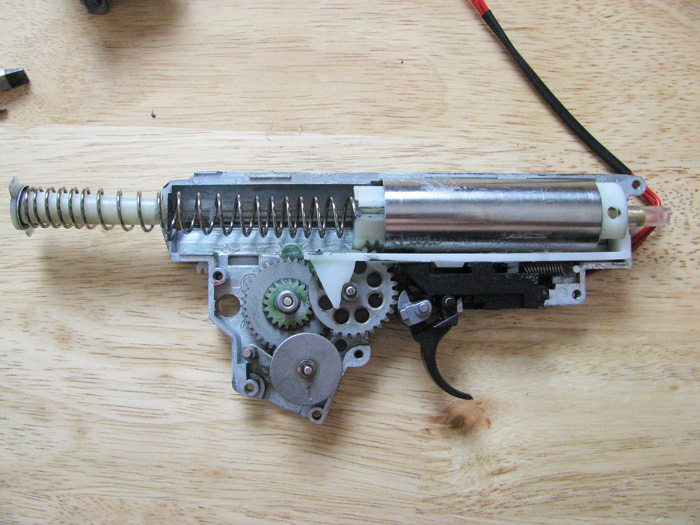 The motor is perhaps the only element I would replace, but only to improve the RPS (rounds per second), since I think that with a better motor you can get a better ROF (rate of fire). But the stock ROF is not entirely bad.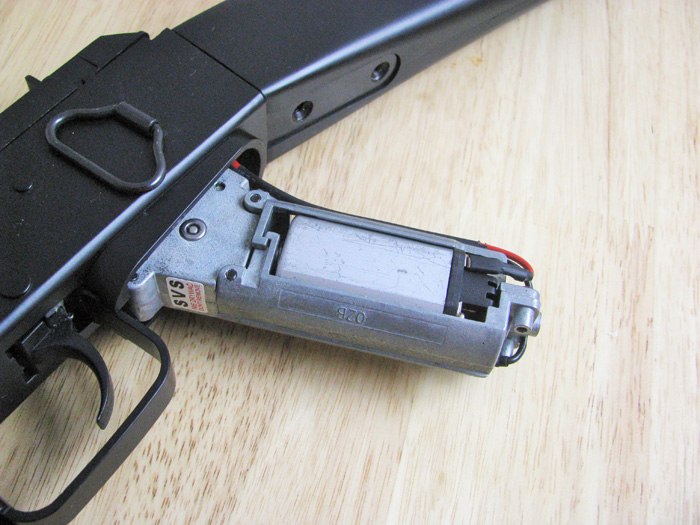 FPS wise the gun is doing 326-329fps and it's quite consistent. When it comes to rounds per second, with a 9.9v volt battery you get around 12 RPS, and 10 RPS with a 7.4v Lipo.
Fitting a battery is very easy on this gun, but accessing the battery compartment could be easier, since you have to unscrew 2 screws, and let's face, it's impractical to do this during a game. So my recommendation is to have huge lipo pack just like the one I reviewed here.
Finally, to protect the gearbox, there is a fuse that can be easily replaced, and it is stowed in the stock.
Going back to the original story:
Throughout the day the gun works great, no flaws, it shoots nicely (You even have a hop-up you learn how to adjust), it's responsive, accurate, and has a good range. At the end of the day you leave the field quite happy with your purchase and you are now a converted Airsofter. One day, not long from this day, you'll want more, who knows a real steel AK, and the cycle ends, this gun has done its role.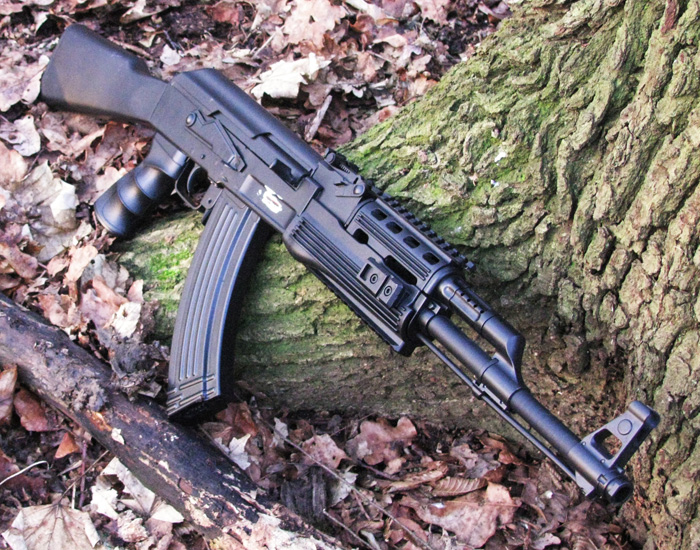 CONCLUSION
To me, these guns are great as backup guns or a lender gun for when one of my mates have an issue with their main weapon, or when I want to introduce someone to the sport. I'm sure they will have just as much fun as I did that day, and so will any new Airsofter out there that chooses one of these Spartac AEG's.
For more info on these guns, you can find the wooden effect (SRT-12) and the Tactical AK (SRT-08) at Gunfire.
Pros:
Very affordable
Stock accuracy and range
Nice looking wooden effect
Comes with all the essentials
Easily upgradable, externally an internally
Cons:
Creaking on the tactical AK
Lots of plastic means less realism
Low ROF
Some bits could be metal such as the sights
Charging handle was broken out of the box