Sneak Preview: WE Airsoft SMG-8 GBB Review
Dom
14 Mar 2013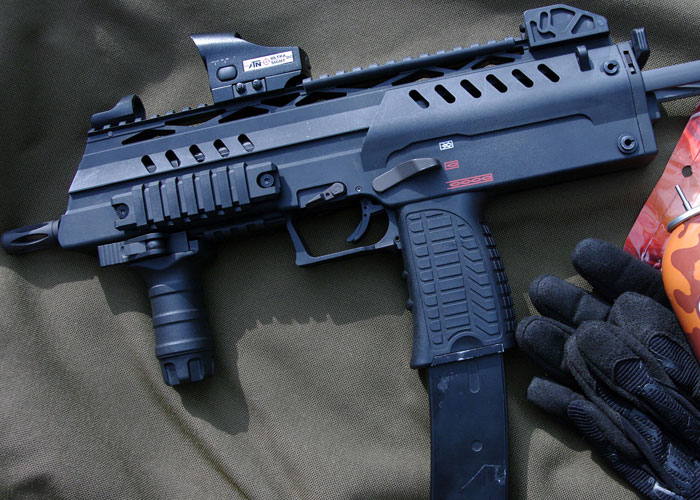 First revealed to the airsoft media, and to a more international audience during the Airsoft Meet up at the IWA 2013 and Outdoor Classics held in Nuremberg, Germany last 10 March 2013 is WE Airsoft's 1:1 scale model, or their airsoft rendition of the H&K MP7A1. Optimus Prime calls it the mutant MP7 when Popular Airsoft first reported it in January 2013, courtesy of Public Enemy. Some think it's a defiled MP7A1, but you might agree with Optimus Prime that it'll take an acquired taste to appreciate it.
According to WE Airsoft, this is the first 1:1 scale model of the MP7A1 and Popular Airsoft gets the honor of taking one pre-production unit or probably the first pre-production unit that gets out of the workshop of WE Airsoft and into the hands of the airsoft media. This is already 99% final and close to full production, so this will be the first independent review of the WE SMG-8 Gas Blowback SMG.
Before I conducted the full review, I took the liberty of creating a sneak preview video of the SMG-8, doing my best to show the bolt, the BBU housing, and the collapsible skeleton stock. My first impression is that the build quality is quite good. Since this is 99%, and not the complete and final production version, my review may be somewhat different as there might be some design changes and performance enhancements prior to full production. But for now assume that my review can reflect on what will go into the hands of WE dealers and retailers when it finally gets released.
One thing about the build quality of the SMG-8, is that it's really impressive that WE will also release a .22 cal version. But that's another story.
Here's the video preview of the WE SMG-8 GBB. Full review will soon follow. Enjoy!