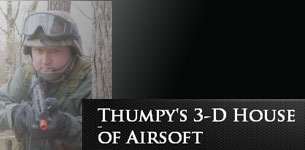 Cybergun, the French company which is said to have created more enemies than fans in the airsoft community, especially in North America, due to their lawsuits against airsoft retailers for importing airsoft guns that do not have the license of trademarks they have the exclusive licensing rights from real steel manufacturers, have raised another alarm in the US.
What's the cause for the alarm? As Thumpy's 3D House of Airsoft reports, Cybergun has bought Spartan Imports, one of the largest importers of Airsoft Guns, and has also acquired the Taiwanese company, Inokatsu. US airsoft players have been very much wary of this company due to its "uncompetitive practices", and selling airsoft guns under its brand, through existing airsoft manufacturers in the Far East, and at prices that players are aghast at.

While the practice of rebranding airsoft guns is not so new, Cybergun is detested by its more exorbitant pricing and lack of support for its rebranded products. If you have not monitored, or not aware of the issues against Cybergun, better google "Boycott Cybergun" and you'll see many links detailing the grudges of airsoft players against the company.

While intellectual property is on Cybergun's side, as they have spent money acquiring such exclusive licences for their own business purposes, they have failed to get the support of airsoft players by being aggressive in the market firing off lawsuits against local retailers which of course led to the closing of some retailers as they cannot afford the cost of being sued in court. In California where they supported legislation that airsoft guns should be made of clear plastic, since they market products made of these and can be found in Walmart and other big stores.

And with Cybergun's acquisition of Spartan Imports and Inokatsu, what will be their next move? Will they raise prices forcing airsoft retailers to further raise their own retail pricing? Will they be able to exercise more powers on airsoft retailers to get their own imports at favourable pricing as long as they don't buy airsoft guns by other manufacturers who do not go through Spartan Imports?

And Inokatsu? Will its high end pricing lead to more higher-end prices?

Thumpy and his crew will try to get more information from Cybergun, as they have created a new section at his website, called "Cyber-G Watch: The Rise of Cybergun". If you've got your own stories or information on the company, Thumpy would be happy to hear from you.

As for Cybergun, if they think they are a very much misunderstood company, and genuinely take into consideration the concerns of the airsoft community, then they better make a PR offensive by being more transparent about their intentions in the market. At the end, airsoft players will vote with their feet and money and that is the most important thing in the airsoft business.

Since Thumpy has opened a dossier on Cybergun, Optimus Prime says it's time also to open ours too and share with Thumpy and the community. We'll try to get more information from Cybergun so stay tuned.