Tokyo Marui Reveals New Products At The 50th Shizuoka Hobby Show
OptimusPrime
13 May 2011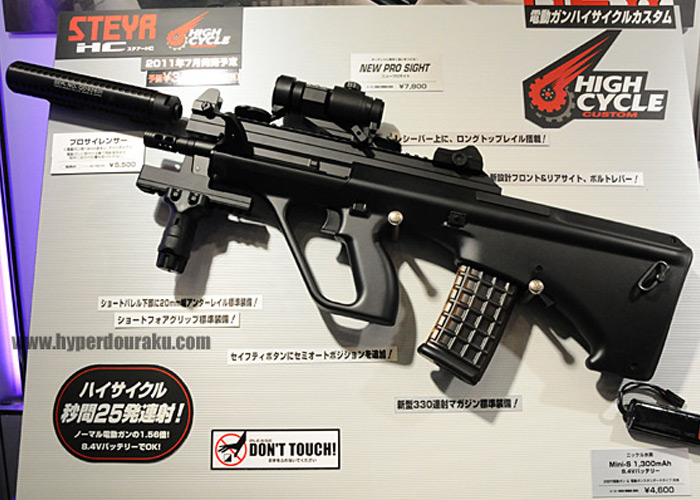 The 50th Shizuoka Hobby Show started yesterday, and as always, Yas of the Japanese Airsoft Blog, Hyperdouraku, was there, taking note of what Tokyo Marui shall reveal for this show, as it is at this show that Tokyo Marui traditionally make announcements on their product releases for 2011. If you are there, then you're lucky. Apart from airsoft guns, you get to see all the latest gizmos that makes this show a hobbyist's heaven.
And they did not disappoint, Tokyo Marui unveiled some products many airsoft players shall look forward to, ranging from two new airsoft assault rifles, a new high cycle gun, and their new gas blowback pistols. Yas gives his take on these new items:
Tokyo Marui Custom Steyr High Cycle
Based on the Steyr Aug A3 design, this HC model boasts of spitting out 25-rounds per second. The top rail is made of resin containig glass fibres. The Flash hider is made of aluminium with the 14mm thread recessed. It comes with an adapter so you can attach a suppressor to it. At the bottom of the front area is another rail attachment that comes with a Tango Down foregrip.
The front and rear sights are plastic, it sports a new chamber that reduces the outside diametre of the hop up dial and allows smoother feeding of BBs. The improved 330-round magazine has an easy to open lid, and a stronger spring to feed the bbs better in a high cycle AEG.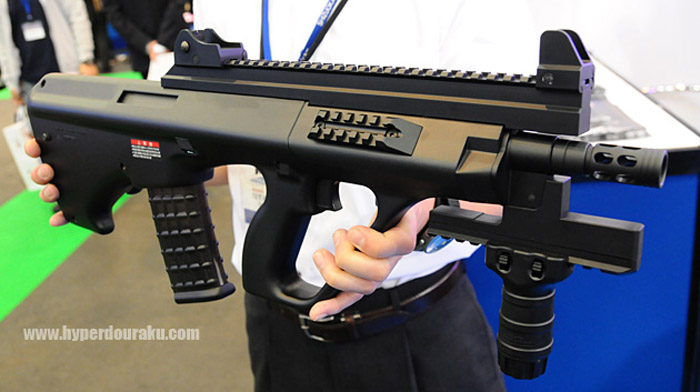 Tokyo Marui New Gen SCAR-L CQC Version
This AEG with the new generation electric blowback and recoil system has been circulating slowly, with Echigoya Guns already selling it online before the Show. Nothing significant with the standard TM SCAR-L except having a shorter barrel.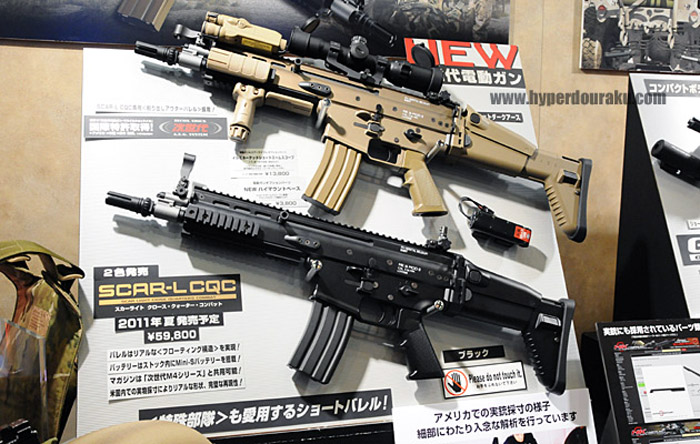 Tokyo Marui New Gen G36C Custom
Another G36 airsoft gun which has the blowback and recoil system following the G36K which was released last year. This version has an aluminium flash hider, and also comes with a short foregrip, folding stock, and cheek pad.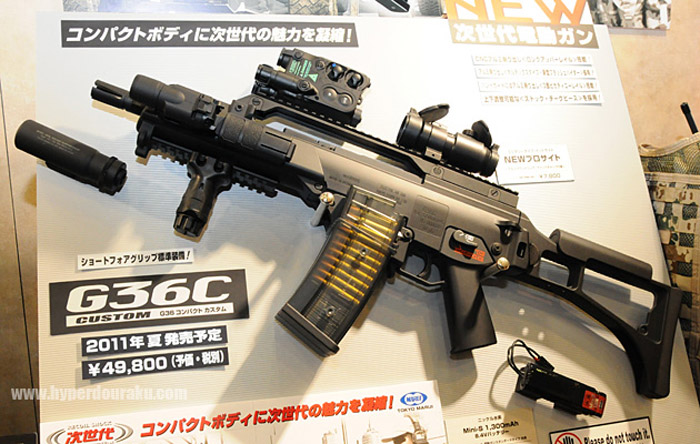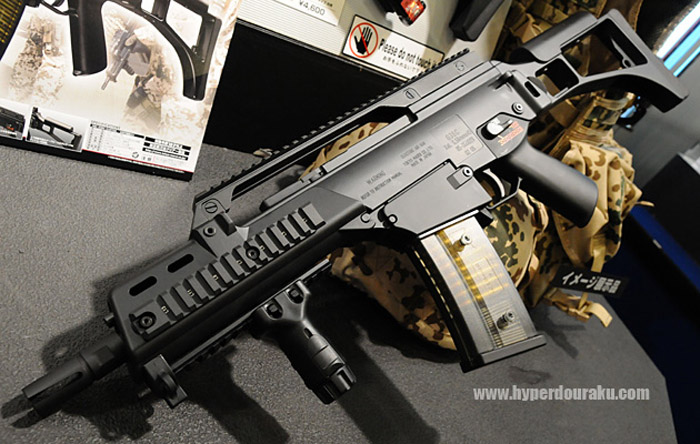 Tokyo Marui 5.1 Hi-Capa Custom Match
The latest Hi-Capa version of Tokyo Marui's best selling airsoft pistol series. The slide's weight has been reduced with the cuts to the slide. It has a silve hard surface finish, front sight condenser tube, and the front sight seems to have a luminous/fibre optic feature for better sighting at low light conditions.
Also to accompany this pistol is a 50-round magazine for those who prefer this magazine type.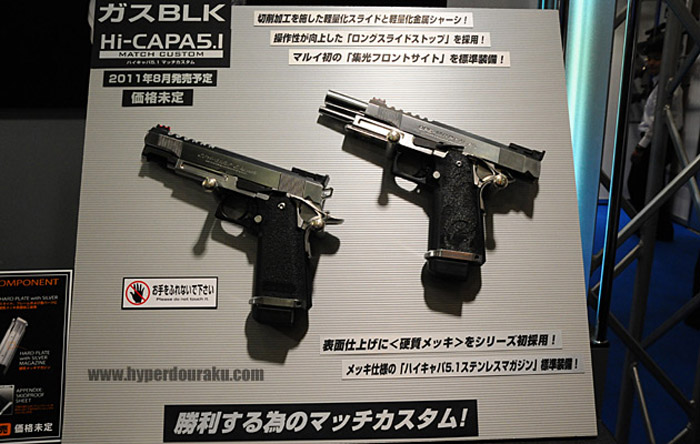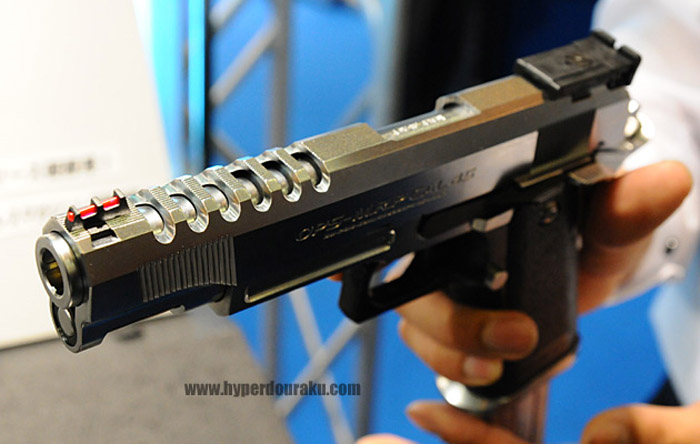 Tokyo Marui Samurai Edge Chris Redfield Model
This has been announced previously, but now it's shown in its full glory at Shizuoka. This is a limited edition model in commemoration of the 15th Anniversary of Resident Evil. This is a custom version of the M92F. Just like the older Samuri Edge, it has a fixed hop-up, while the slide has a matt blue metallic finish. The grip is decorated with a medallion with the dominant blue finish for Chris Redfield.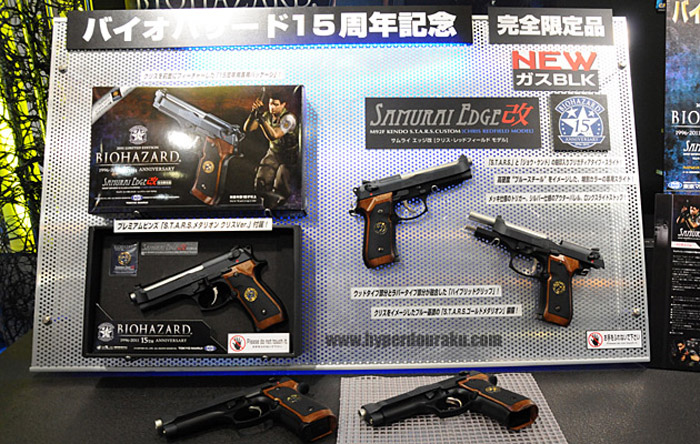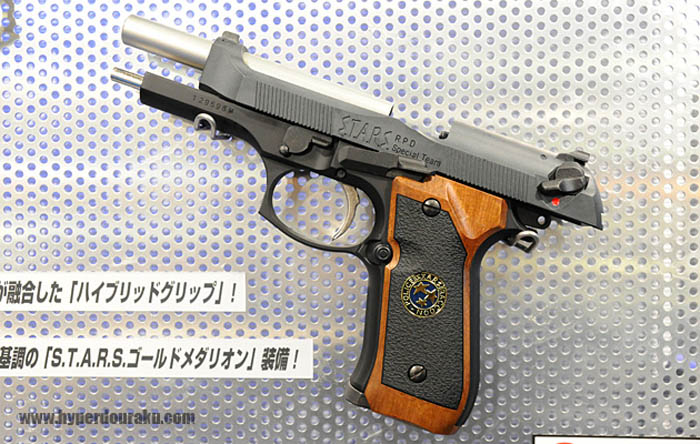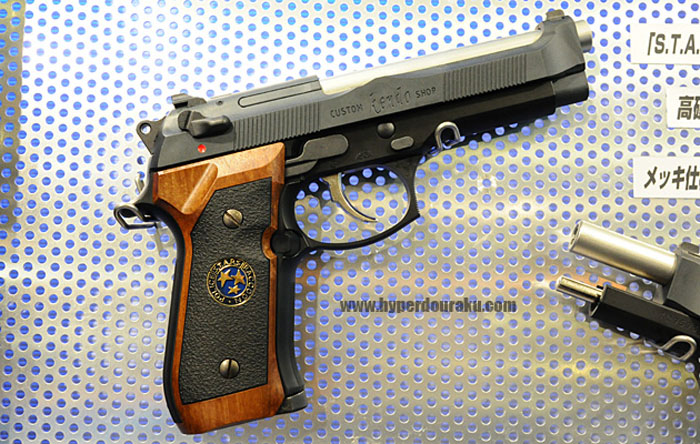 Tokyo Marui Sig Sauer P226 E2 Gas Blowback Pistol
According to Yas, this product was announced last year, and to immediately distinguish this model from the venerable TM P226 gas blowback pistol is the large "E2" marking in white at the right side of the slide. This is a one piece construction with an ergonomic grip with a 20% improvement in the recoil force and durability. The texture of the slide has been improved with a matte gray colour.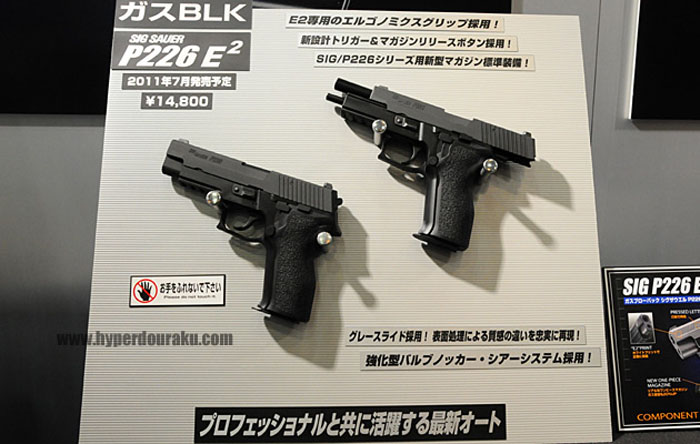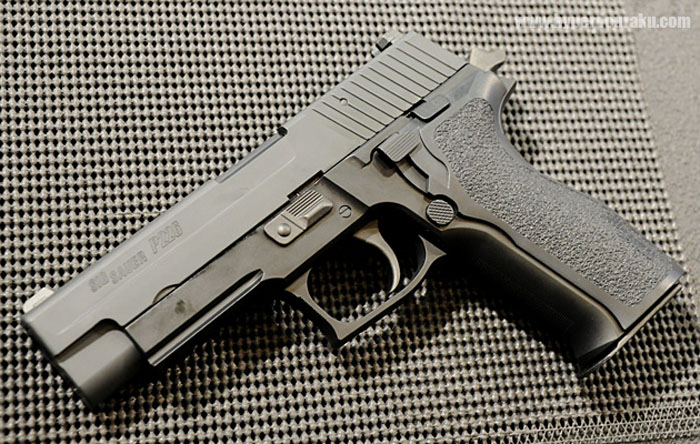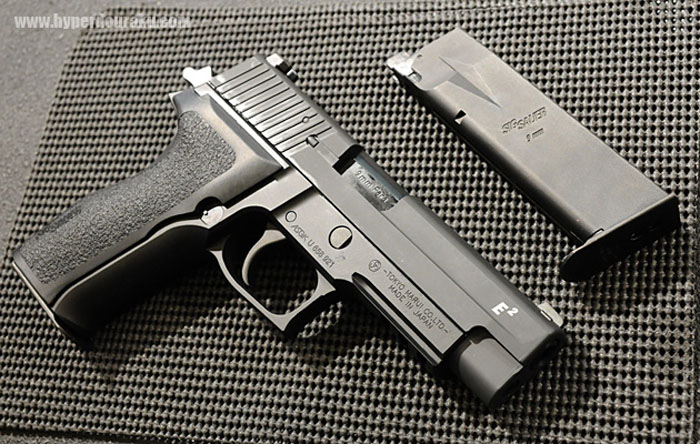 Expect these products to hit retailers in Japan very soon. It may take a while for these products to get out of Japan as they do not have overseas dealers, but products from TM are sourced through other dealers in Japan for the overseas market.
You can see more photos and get more understanding of these new products by reading the Hyperdouraku blog.
Our thanks to Hyperdouraku's Yas for covering such event faithfully over the years.