The Total War On Bugs Got A New Weapon --- The Bug-A-Salt Shred-ER
Gungho Cowboy
15 May 2021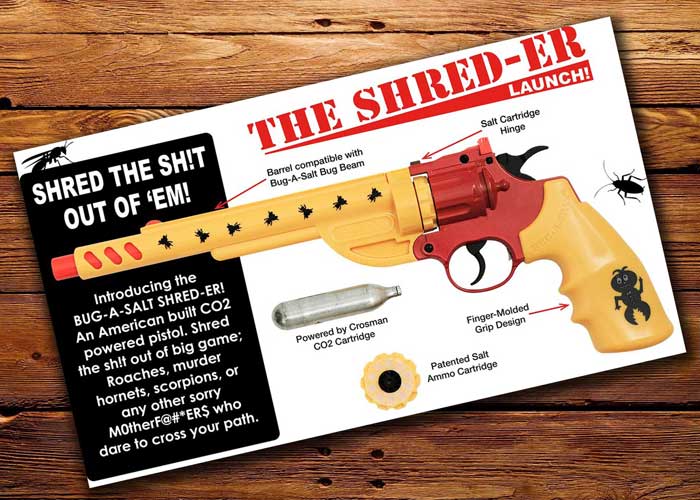 Almost 10 years ago, what was a weird concept turned into a multimillion dollar business. Artist Lorenzo Maggiore invented the Bug-A-Salt an insect-killing gun that uses salt as ammo and turned it into a big hit as buyers of the bug killer get to kill flies at home with a contraption that's designed like a gun.
Now, Maggiore got a new weapon and apart from flies, it can take care of bigger bugs such as roaches, murder hornets, and scorpion. Called the Bug-A-Salt Shred-Er, the design is different from the original Bug-A-Salt which is a pump action pest killer. The Shred-ER is a revolver-style salt gun that uses CO2 as propellant and each refill is good for 10 shots.
---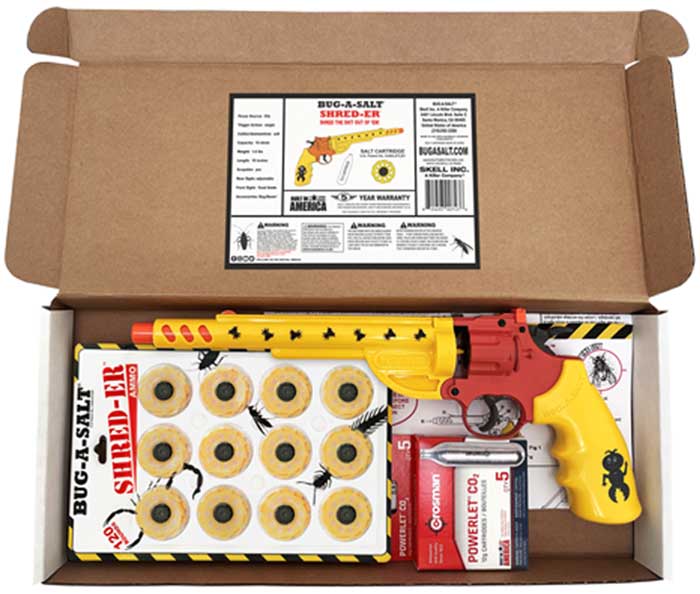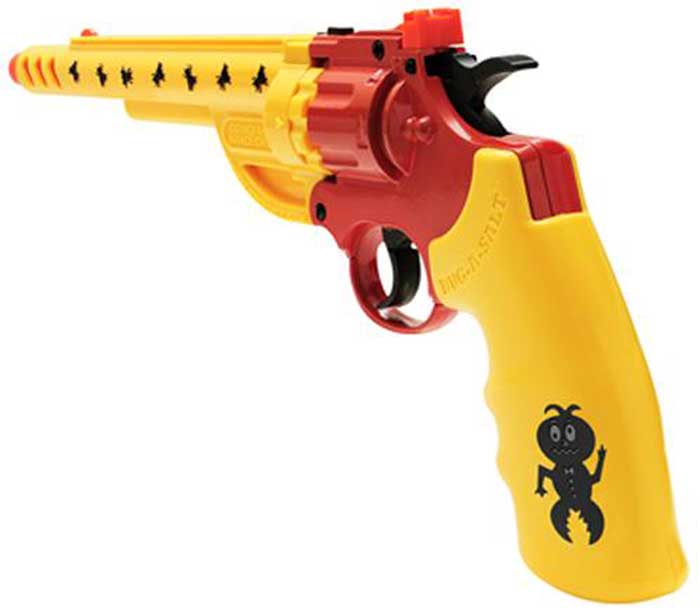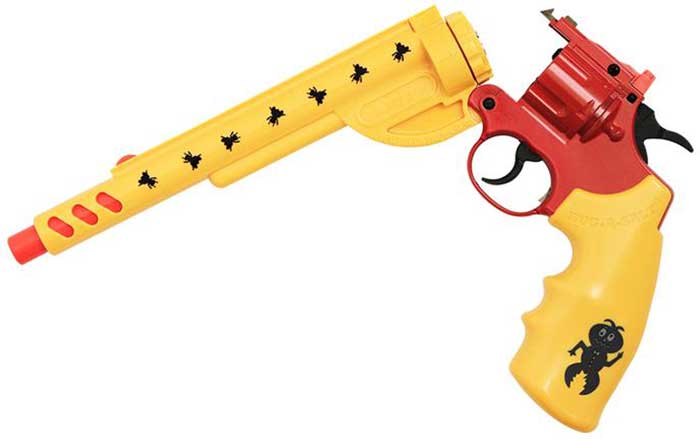 ---
It looks like it's so good that it immediately went out of stock in under three hours after it became available at the Bug-A-Salt online store.
But just like any device that's shaped like a gun and fires a projectile, even if it's a pinch salt, it is advised that you treat like a real firearm, if you are interested in getting one. You should not point it at other people, especially to their eyes, and they recommend eye protection.  Another thing, unlike the original Bug-As-Salt, flies hit by the salt shots will not be intact so they'll be mess when cleaning up.
---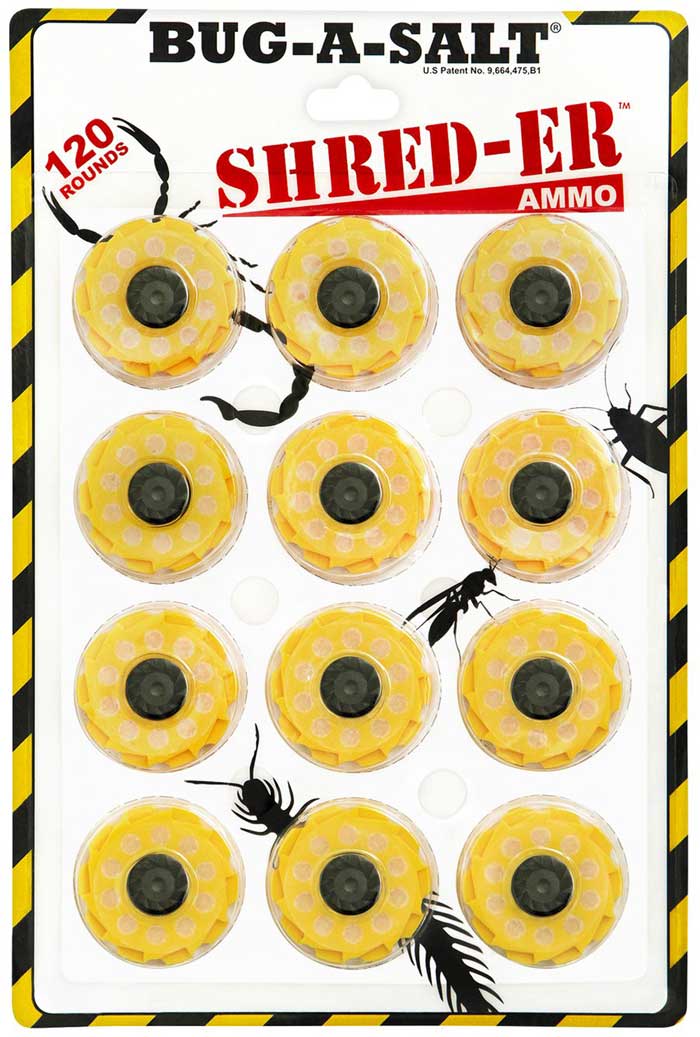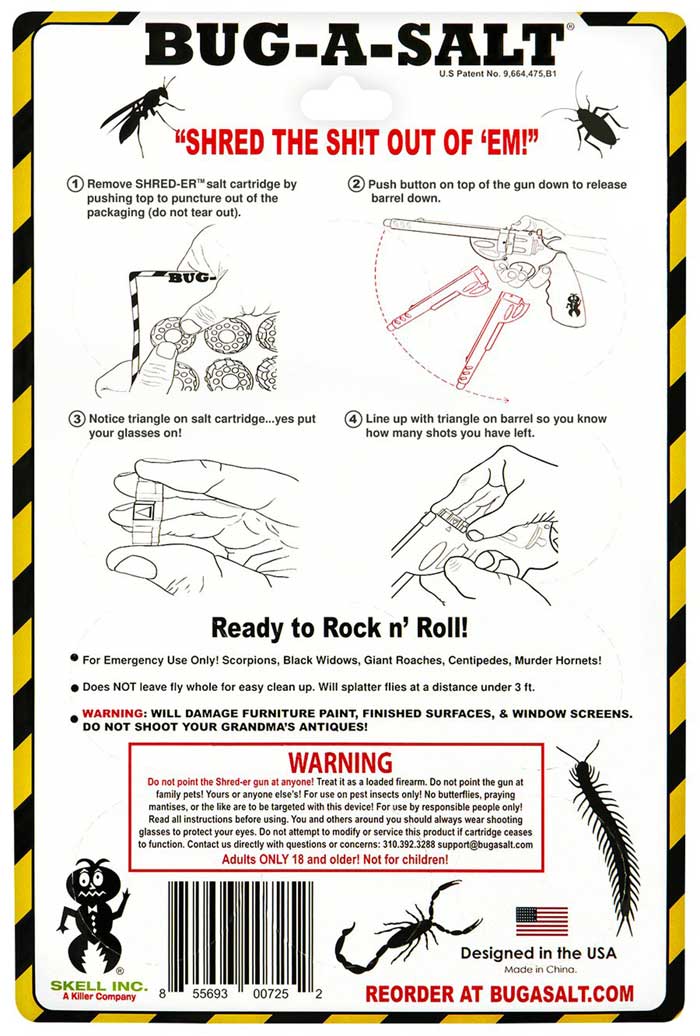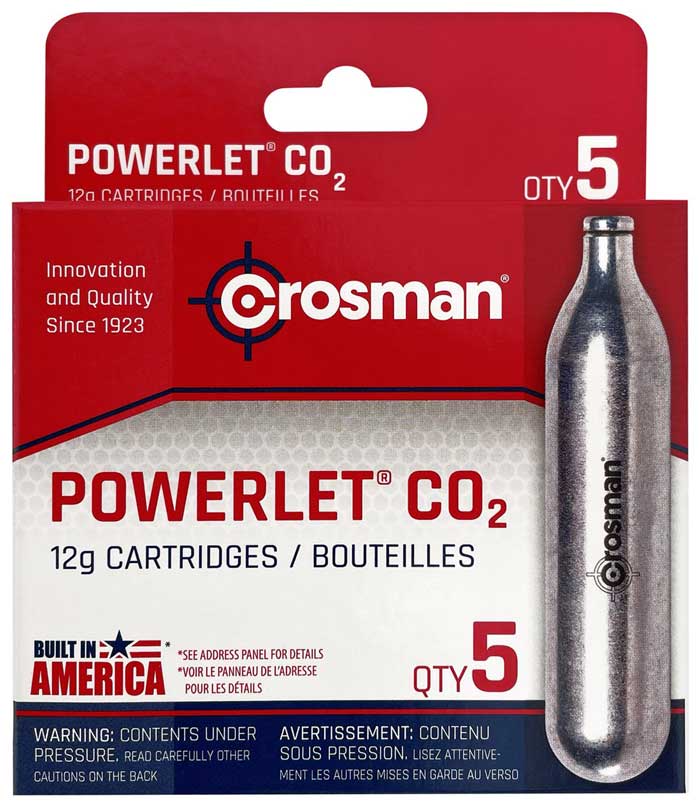 ---
As recommended by the company, the Shred-ER should only be used for pest control and not for recreational shooting if you think you can skirmish with it like a Nerf or airsoft gun.
If you want one, you'll have to wait until it's back in stock again. Press release from Skell Inc.,  the company behind Bug-A-Salt, below:
Inventor and CEO Lorenzo Maggiore announces the launch of a new, patented large game, insect eradication device, the BUG-A-SALT SHRED-ER

SANTA MONICA, Calif., May 13, 2021 -- Inventor and CEO Lorenzo Maggiore announces the launch of a new, patented large game, insect eradication device, the BUG-A-SALT SHRED-ER. Generated by incessant demands for a weapon capable of "shredding hornets," Mr. Maggiore spent several years perfecting, patenting, and trademarking the non-toxic, salt ammunition for a CO2 powered air pistol, the SHRED-ER. Capable of annihilating giant roaches, centipedes, scorpions, and black widows, the SHRED-ER is accurate at a distance of 3-4 feet for large game. For smaller pests like the common housefly or spiders, effective range is 7-8 feet.

Hoping to aid in the battle against foreign pests such as the spotted lanternfly and Asian giant hornets, so-called, "murder hornets" – Mr. Maggiore intends to donate dozens of the new non-toxic SHRED-ERs to federal agencies and citizens in need.  Asian giant hornets are capable of spraying venom into a person's eyes and threaten pollinators in the Pacific Northwest. The spotted lanternfly has invaded Pennsylvania and nearby regions, presenting a significant threat to viticulture, fruit trees, and logging industries.

CEO Maggiore states he became "Sick of customers whining about carpenter bees, and giant roaches - as the original BUG-A-SALT was only intended to eradicate soft bodied insects like the common housefly.  So here you go!  The SHRED-ER has the same physics with regard to salt.  But much more lethal force and without the need to manually cock like the previous model."

Giving back to the community is an important value and Lorenzo explains, "BUG-A-SALT has a great success story and I'd like to return some of my good fortune. My father served as a Marine in World War II.  My generation has it pretty easy, so I'd like to honor his memory and all of those who are willing to risk their lives for our so called freedom."

In honor of his father, a WW2 veteran of the US Marine Corp, Mr. Maggiore has pledged to donate five dollars from each SHRED-ER sold to a military veteran's fund, with the goal of raising over $50,000. The SHRED-ER starter kit, which includes 240 rounds of ammo plus 5 Crosman CO2 cartridges, will retail for $124.95 and is available (in limited quantities) only at BUGASALT.COM.