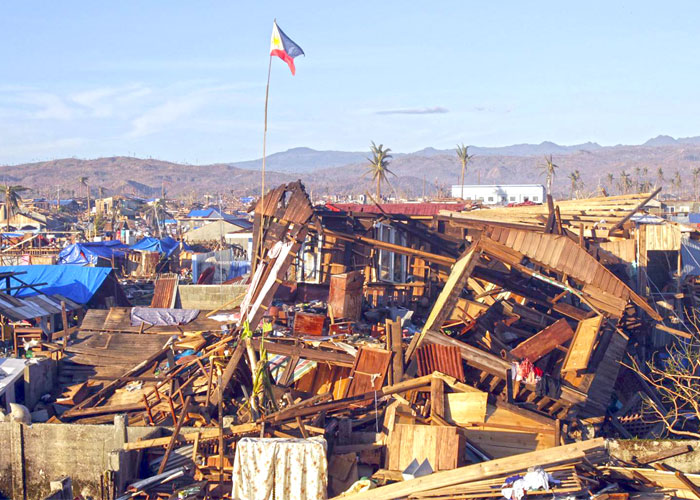 I don't know how to begin this because words cannot really describe what happened in the Central Philippines after Typhoon Haiyan (Philippine Code Name: Yolanda), said to the strongest Typhoon on record packing 195mph/315kph winds devastated everything in its path. The City of Tacloban, the first major city the bore brunt of much of the fury of the Typhoon lie in utter ruins just like a war zone. Initial estimates say that 5% of her population of 200,000 perished. There are more dead people in other provinces and cities that were along the path of the tropical destruction.
We have been in contact with our friends on the islands, and we have read with much sadness on Facebook posts of Filipinos saying goodbye to their friends lost in the Typhoon and we get to see the photos of those who died when they were alive. The feeling is just too heavy and to imagine people who thought they were already safe in evacuation centres but still lost their lives when these centres gave way, unable to protect them from a natural calamity of a magnitude they have not prepared for is just too much.
Right now, the people in the stricken areas are without food, water, and energy. Rescue and humanitarian organisations are rushing to the victims before any outbreak of disease happen and to put up shelters to protect the survivors as another storm ("Zorayda") might just hit the area in the next few days and the people are much more vulnerable right now. It's a race against time.
In the airsoft communities, efforts are stirring to help the affected areas. Airsoft teams in the Philippines who belong to areas not affected by the Typhoon are now springing into action where many are volunteering to prepare relief goods and the more trained ones in such situations are now forming groups to send to the areas, if not are already on the ground.
Our friends from NYCAirsoft, who organise airsoft events to help charities, have immediately setup a funding page for their Operation: Sea Bird to help Team Rubicon, a team comprised of veterans, deploy to the Philippines and help out in rescue and recovery efforts. They are organising a CQB game on Sunday, 17 November, for those in the New York and New Jersey area and proceeds will go to Team Rubicon.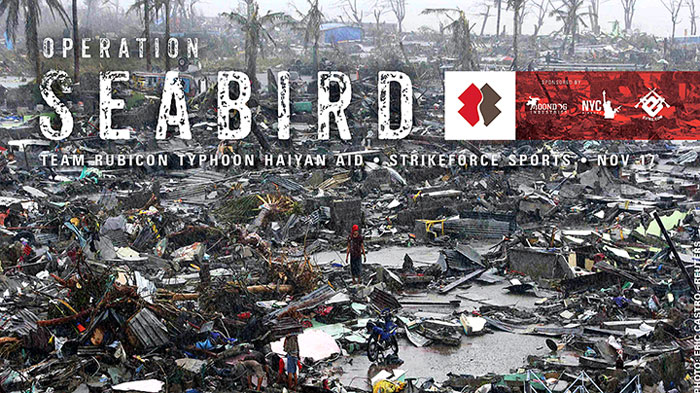 Here are at Popular Airsoft, we decided not to organise our own fund raising appeal efforts since there are more experienced organisations dedicated to helping those in disaster areas. But we do appeal to those who want to help to direct their donations to those which are already in the area such as the Red Cross, World Vision, Doctors without Borders, Americares, and Oxfam. They will need the resources and they will know where to put the resources to best use. Whilst many are already delivering food, water, and medical supplies, we recommend that actual money be donated as pouring money into the area will help pump the economies local communities making the locals able to help themselves rebuild their communities.
You can send your donations to United Nations organisations such as the UNICEF and World Food Program if you want to help via the United Nations and they more offices worldwide so easier for you to contact them in your own country.
Also the best way is to contact your country's local Red Cross Office as they have people on the ground in the Philippines right now. For Medical operations, you can also donate to Doctors without Borders.
PHILIPPINES
If you're in the Philippines or want to send donations directly to Philippine organisations, here are some useful information: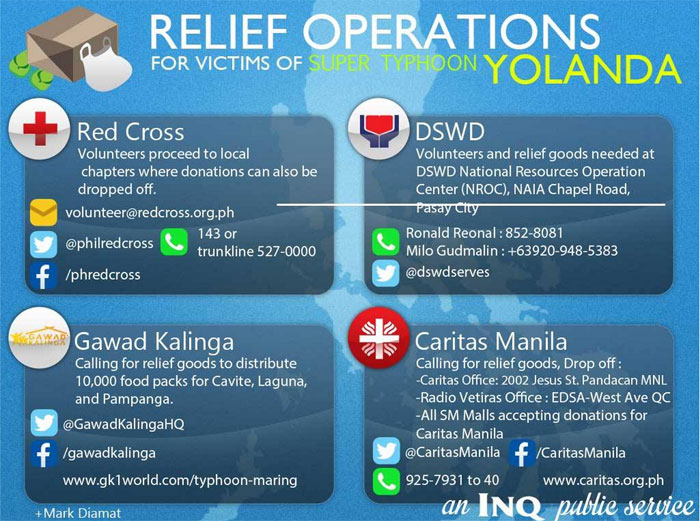 UNITED KINGDOM
The following organisations are very much active in the Philippines:
OXFAM
WORLD VISION
ACTION AGAINST HUNGER
SALVATION ARMY

UNITED STATES
SAVE THE CHILDREN
AMERICARES
SHELTERBOX
SALVATION ARMY
If you are not located in these countries, please check your national newspapers and websites for information on how to give your donation or where to volunteer if you want to be on site.
Any effort to help the Filipinos in the affected area, you have the gratitude of a nation of resilient and gracious people.