Vortex's 1-8×30 Active Reticle Fire Control Is Now The U.S. Army's XM157 NGSW-FC
Logan
12 Jan 2022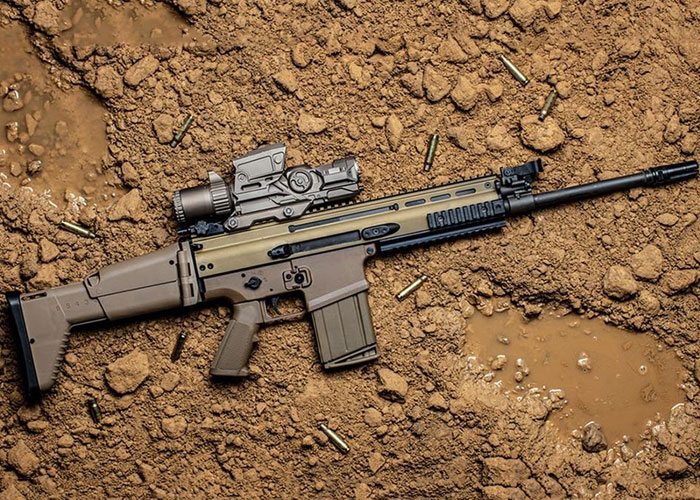 The U.S. Army has finally settled on the Fire Control for the Next Generation Squad Weapon – Fire Control (NGSW-FC) and it is the Vortex Optics 1-8×30 Active Reticle Fire Control. With Vortex bagging the contract, their entry becomes the XM157 NGSW-FC and it will start at US$20 million for the decade.
A year before, the company was awarded a contract to build a prototype for the NGSW-FC using 1-8×30 Active Reticle Fire Control.
Sheltered Wings which does business as Vortex Optics will be building the XM157 NGSW-FC, which beat the entry of L3 Harris for the contract. The system is a variable-power, first focal plane rifle scope. The Active Reticle is overlaid digital display that augments the scope that is said to increase hit percentage and decrease time to engage. It has wireless features which will allow it to be linked to the IVAS (Integrated Visual Augmentation System) which is a high tech goggle system that uses the Microsoft Hololens, allowing what it sees to be overlayed on the IVAS, which also means less exposure for the soldier when looking for and shooting at targets.
---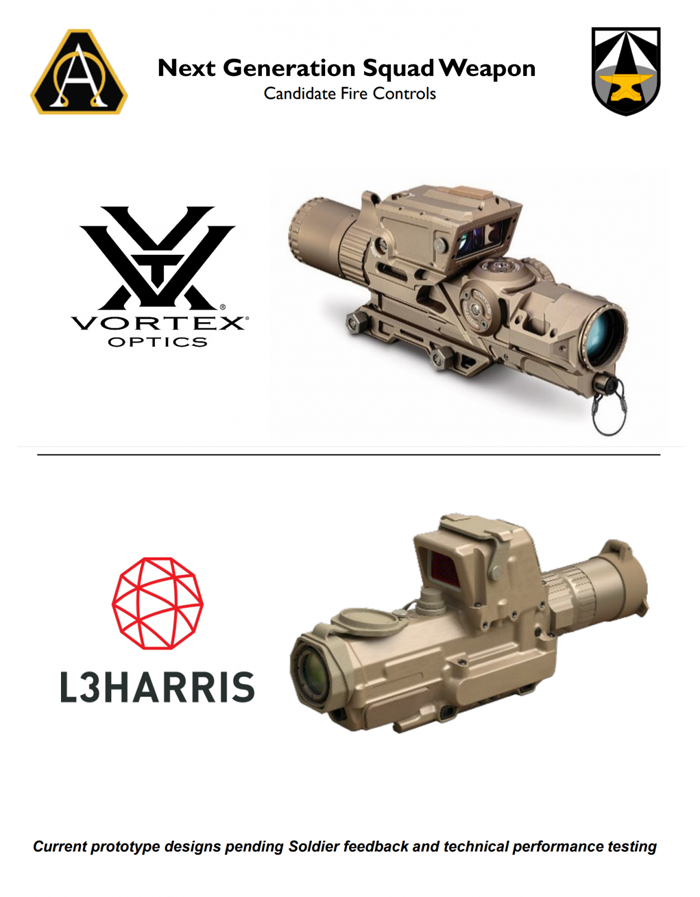 ---
While the contract is at US$20 million it has a maximum ceiling of US$2.7 billion delivering up to 250,000 XM157s.
The NGSW is an ongoing program of the U.S. Army that will replace the M4 and M249 with the new weapons platform using the 6.8mm round instead of the 5.56mm NATO round. Only two finalists remain: SIG Sauer with their SIG MCX Spear rifle (NGSW-R) and SIG MG 6.8 belt-fed machine gun (NGSW-AR) and Lone Star Future Weapons/True Velocity as with their RM-277R bullpup rifle and RM-277AR machine gun.
Press release below:
Next Generation Squad Weapons – Fire Control System

Army awards Next Generation Fire Control System agreement to Sheltered Wings Inc. d/b/a Vortex Optics

PICATINNY ARSENAL, N.J. -- The Army has awarded Sheltered Wings Inc. d/b/a Vortex Optics based in Barneveld, WI a 10-year firm fixed price, Follow-on Production Other Transaction Agreement (P-OTA) with a maximum ceiling value of $2.7 billion for production and delivery of up to 250,000 XM157 Next Generation Squad Weapons - Fire Control (NGSW-FC) systems over a ten-year period.

The NGSW-FC system is a ruggedized fire control that increases accuracy and lethality for the Close Combat Force. It integrates a number of advanced technologies including a variable magnification optic, backup etched reticle, laser rangefinder, ballistic calculator, atmospheric sensor suite, compass, Intra-Soldier Wireless, visible and infrared aiming lasers, and a digital display overlay.

The agreement minimum is $20 million and provides the U.S. Government the ability to procure fire control systems, supporting accessories, spare parts, repairs, and engineering services, to include requirements for other Department of Defense Services and potential Foreign Military Sales.

The NGSW-FC will serve as the fire control for the Next Generation Squad Weapons – Rifle and Next Generation Squad Weapons – Automatic Rifle. The NGSW-FC is the planned replacement for the Close Combat Optic, Rifle Combat Optic, and Machine Gun Optic within the Close Combat Force (Infantry, Cavalry Scouts and Combat Engineers).

The U.S. Army Contracting Command, Picatinny Arsenal, New Jersey, is the contracting activity.