Vote Now As It's The 9th Airsoft Players' Choice Awards Voting Period
OptimusPrime
07 Jan 2019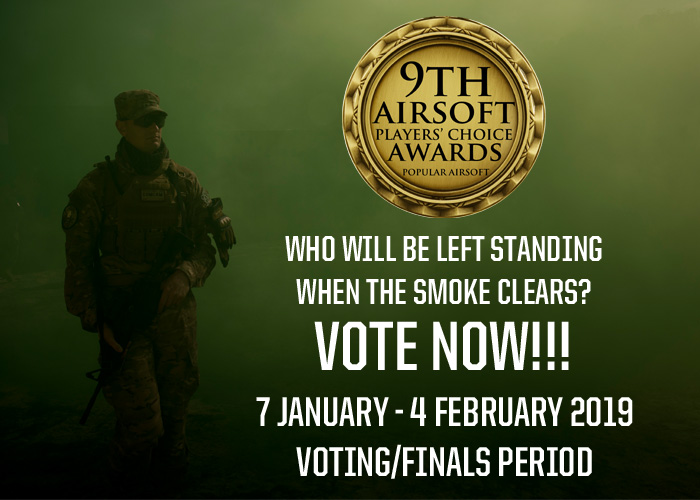 It's the moment many prospective nominees and their fans have been waiting for --- the Voting Period of the 9th Airsoft Players' Choice Awards. From today up to the 4th of February 2019, airsoft players and readers of Popular Airsoft from around the world will be voting and determine who wins in this awards edition.
The top 5 nominees which are nominees who received the most number of nominations during the Nomination Period advance into the Voting Period. If you want to vote right now, click the button below to start voting:

You can vote in one more categories. Whilst we prefer you cast your vote in all categories, you have the freedom to choose which categories to vote in.

Here is the most awaited part of today's announcement, the finalists of the 9th Airsoft Players Choice Awards:
Best Airsoft Retailer for North America
Best Airsoft Retailer for Europe
Best Airsoft Retailer for Asia
Best Gear Retailer for North America
Best Gear Retailer for Europe
Best Gear Retailer for Asia
Best Airsoft Magazine (Print or Digital)
Best English Language Airsoft News Website
Best Non-English Language Airsoft News Website
Best Airsoft Blog (Regardless of Language)
Best Airsoft Community/Forum
Best Airsoft Video Posted Online in 2018
Best Airsoft Event (Over 500 Players)
Best Airsoft Podcast or Video Channel
Best Airsoft Upgrade/Parts Maker
Best Airsoft KABOOM (Grenade/Mine/Mortar/Rocket/Pyro) Maker
Best HPA Airsoft Engine
Best Airsoft Pistol (Regardless of Power Source)
Best Airsoft Gas Blowback Rifle
Best Airsoft Shotgun
Best Airsoft Sniper Rifle
Best Airsoft Automatic Electric Gun (AEG)
Best Airsoft Manufacturer
Special Airsoft Player Award (Male)
Special Airsoft Player Award (Female)
Please do take time to visit the sponsors supportive of this endeavour: