Welcome The First Members Of The Airsoft Players' Choice Awards Hall Of Fame
OptimusPrime
02 Mar 2015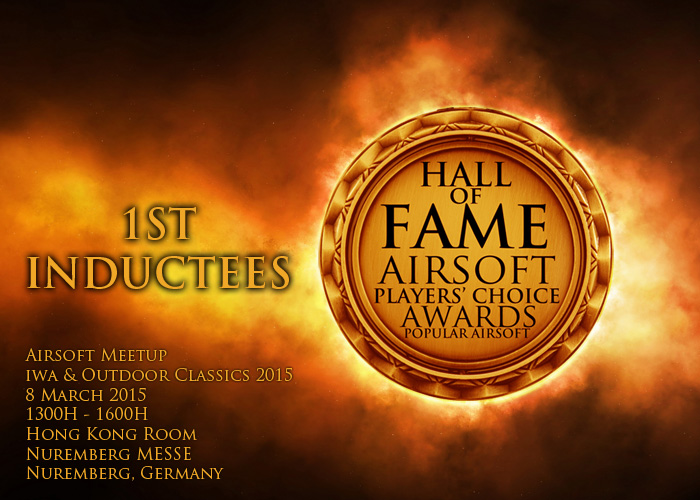 One of the highlights of the Annual Airsoft Meetup during the IWA & Outdoor Classics in Nuremberg, Germany is the awarding ceremony of the Airsoft Players' Choice Awards. The awarding usually takes place at the end of the presentations and talks. Nothing really fancy like the Oscars or the Grammy Awards, but at least the airsoft community also has an awards show.
We advise those who are winners of the recently concluded 5th Airsoft Players' Choice Awards to contact us if they will be attending the Airsoft Meetup. We only bring the Awards plates for those who have confirmed attendance whilst for those who are not able to make it, we will be shipping their awards to them.
For this year's Airsoft Players' Choice Awards Ceremony, we are announcing the 1st inductees to the Airsoft Players' Choice Awards Hall of Fame which is an award for companies, individuals, organisations, and products which have made a significant achievement in the Airsoft Players' Choice Awards.
The criteria in being inducted into the Hall of Fame is simple, but it's not an easy thing to do --- win in the same awards category for five times. This also means that you, the readers of Popular Airsoft, have chosen them to be in the Hall of Fame. The blokes from Popular Airsoft just make the criteria, rules and count the votes, but never chose who gets to win in the categories, except for one, the Special Popular Airsoft Award.
The 1st inductees are a special batch. They not only won 5 times in their categories, but they won 5 times in a row! They are winners on their right even without the Airsoft Players' Choice Awards, being some of the most well known airsoft names.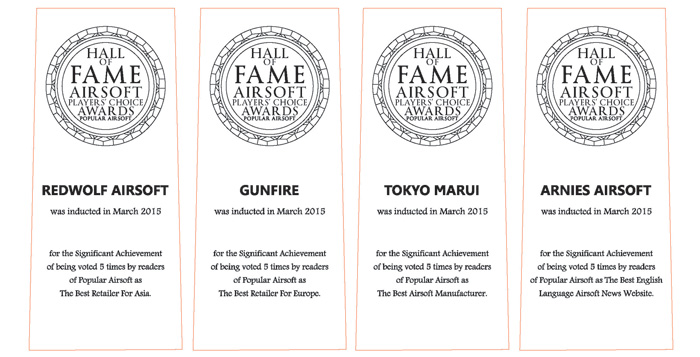 Let us welcome and congratulate the First Inductees of the Airsoft Players' Choice Awards Hall of Fame.
Hall of Famer RedWolf Airsoft: Best Airsoft Retailer For Asia

Founded in 1998, we are the first, largest and most reliable international retailer specializing in airsoft and wargame equipment. We also carry the most diverse product line (with over 15,000 individual products) with virtually every quality airsoft product available on the market today. Our team of expert tuners and technicians also provide a full range of upgrade and customization options for every need. Our resident expert gunsmith, world-reknowned Airsoft Surgeon, is able to create unique and personalized guns for the discerning collector and player!
Our international management team provides us with the ability to serve customers worldwide very effectively. We have offices in the UK and Hong Kong. We have been in this business for a long time and put our customers first! A full team of pre-sales and customer service representatives are here to answer your questions, and help you with any problems. Shopping with RedWolf is a hassle-free experience. We stand behind our products 100%!
Hall of Famer Gunfire: Best Airsoft Retailer for Europe

We are a group of enthusiasts, who a few years ago, when hardly anyone has heard of something like airsoft, decided to propagate the sport in Poland. The beginnings were as tough as always - most people have only seen airsoft as nothing more than BB guns themselves, but we knew right from the beginning that there was more to it, we knew that airsoft is a way of life, a passion and a great way to spend your time. That's why our motto is "Airsoft & more"™.
Our strength lies in experience. We deal with airsoft for as long as we can remember. None of us is here by coincidence - the majority are active players who know well the equipment we sell because we use it on a daily basis. This allows us to give good advice and find an optimal solution to any problem, as well as help to choose just the right equipment. We are part of the airsoft community.
Despite such extensive knowledge and experience we are constantly focused on our own development, constantly expanding our offer with cutting-edge airsoft replicas, in the meantime not forgetting about the more economy-level guns. Gunfire's offer also includes airsoft accessories - among them a wide variety of batteries for airsoft replicas, tuning parts, tactical equipment and 6 mm BBs. An airsoft store is so much more than just the products. We are constantly raising our standards and improving the quality of our customer service.
Hall of Famer Arnie's Airsoft: Best English Language Airsoft News Website

Arnies Airsoft (AA) is a British website based in the UK that aims to bring you the lighter side of Airsoft. Although sited in England the news is submitted from all around the world, and aimed to appeal to 'softers from any country.
AA features news, reviews, projects, articles, comprehensive links and a whole heap more all written with an appealing British jovial spin.
Hall of Famer Tokyo Marui: Best Airsoft Manufacturer

Tokyo Marui was founded in 1965 as a hobby toy manufacturer. The company entered the airsoft business releasing their first airsoft gun in 1985, the Luger P-08. In 1986, they released the first airsoft gas blowback, the S&W 59. They introduced the first airsoft automatic electric gun in 1991 in the form of the FAMAS AEG. The company has been moving from strength to strength, being the biggest airsoft manufacturer in Japan and setting the de facto standards in airsoft development such as the electric blowback and recoil new generation AEGs.