We're Now On The Third Week Of Nominations! Don't Let The Clock Run Out!
OptimusPrime
05 Dec 2022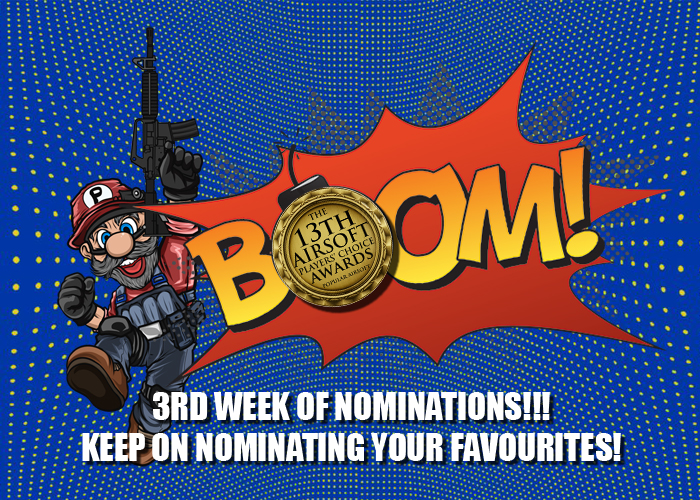 The list of nominees is growing bigger and bigger as more and more members of the airsoft community keep on sending their list of nominees at the 13th Airsoft Players' Choice Awards. We always get queries on how we gets nominated and our answer is simple: they get nominated on the basis that they're known by airsoft player or group and that they deserve an award. It's just a matter of getting enough nominations to get through the Finals/Voting Phase.
Get your airsoft friends nominate you and you will need to campaign on why you should be in top 5 in the categories you think you are strongest. Remember, only the top 5 nominees in each category get to move to the Finals/Voting Phase.
There are just two weeks left, so don't waste those days. Get those nominees in and click the button below to start nominating.
---

---
The Nomination Period runs from today, the 21st of November until the 19th of December 2022 at 2400H PST. There is enough time to nominate, but the earlier that you nominate the better and encourage to do so.
The 13th Airsoft Players' Choice Awards is our opportunity as players to give appreciation and recognition who worked hard for the sport and hobby by innovating on products; creating content to spread the word around to make the community and the general public aware of what is happening in airsoft; giving good service in selling airsoft guns and gear; organising the events that players will always talk about; enhancing cooperation through teams, groups, and communities; and being outstanding airsoft players.
As we go on with awards process of the 13th Airsoft Players' Choice Awards, we invite you to visit our sponsors' websites to show your appreciation for their support to the event as their support is invaluable. Please do click on their logos below to visit their websites and learn more about them:
---
MAIN PRESENTERS
---
GOLD SPONSORS
---
BRONZE SPONSORS
---
Nominate your favourites now!