Will The Heckler & Koch HK416 A8 Finally Be The Bundeswehr's G36 Replacement?
Logan
05 Mar 2021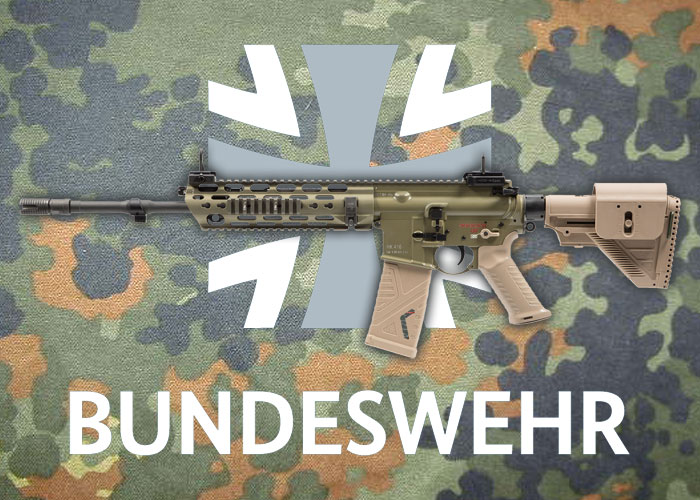 The chances for Heckler & Koch winning the bid to replace the G36 rifle in the Bundeswehr is getting to be real possibility given that there is no other competitor left. In October 2020, the German Federal Ministry of Defence cancelled the awarding of the contract to C.G. Haenel for its MK556 rifle for patent infringement concerns and this week's report indicate they planned on excluding Haenel from the awarding and instead give it to Heckler & Koch.
According to Soldat-und-Technik, at a German Parliament Defense Committee meeting, State Secretary for Defense Peter Tauber is said to have presented that they have completed a reevaluation of the bid and that they intend to accept the offer from Heckler & Koch. He cited the violations of intellectual property that made them disqualify C.G. Haenel from the bidding process and they intend to inform the company of this decision afterwards.
Tauber also said that even with the bid of Haenel to nullify one of the patents, it may affect only Germany but since it is a European patent, the patent still applies in other European countries until it is declared null and void there.
With the cancellation of the contract, C.G. Haenel loses the right to supply the Bundeswehr 120,000 MK556 rifles worth 250 million euros. Once the German Federal Ministry of Defense offers the contract to Heckler & Koch, the rifle will be the HK416, with the A8 variant said to be the choice. The contract will stipulate that 20,000 rifles will be supplied each year until completion of contract which will be the same as the original contract offered to Haenel, which is a total of 120,000 rifles.
While the HK416 is mainly used by many special operations units around the world, if the Bundeswehr finally adopts it, Germany will be the third country to issue it Armed Forces-wide.
C.G. Haenel issued a press statement that it intends to take legal steps:
We are very disappointed with the BAAINBw's decision to exclude CG Haenel from the procurement process and to award the contract to H&K. During the entire award process, CG Haenel behaved professionally and endeavored to transparently answer all questions relating to the offer on the basis of facts and away from the media limelight. Most recently, we provided comprehensive answers to the allegations made against our company, which were supported by an expert report prepared by one of the leading law firms in Germany. Our answers and the opinion leave no doubt that all allegations made against Haenel, including the allegation of patent infringement, are unfounded and that the exclusion of our company from the procurement procedure on the basis of these allegations is unlawful. We are reviewing the BAAINBw's decision and will take all necessary legal steps to protect our interests.
The drama continues. Stay tuned…