5.11 Tactical Introduce The Patent Pending Flex-Tac Fabric
Gungho Cowboy
17 Aug 2011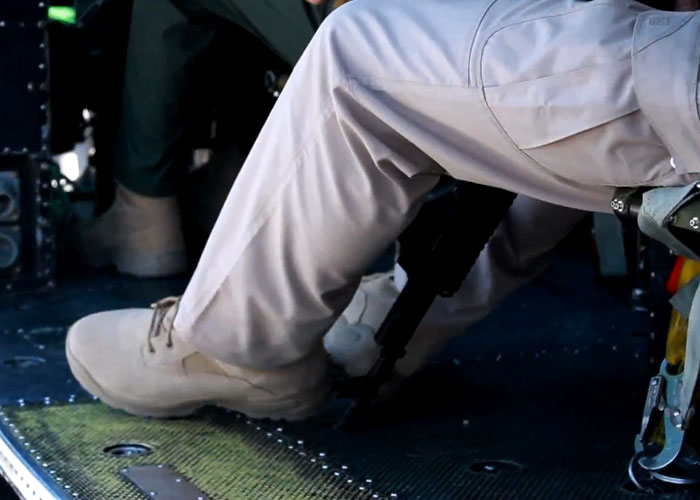 The impending release of this new fabric developed by 5.11 Tactical was announced last July 2011, and as promised, have released their first design of Tactical Trousers in the form of the Stryke Pants that have the Flex-Tac patent pending fabric. This fabric is for their new generation of tactical trousers that takes its inspiration from luxury fashion denim.
The Flex-Tac was developed as based on the requests of PMCs and elite US Military Operators in the Middle East when 5.11 Tactical President, Francisco Morales visited them. What these people asked 5.11 Tactical was to create a "performance stretch fabric":
"The goal was to add functionality for our tactical operators by increasing range of motion and reducing the amount of resistance the fabric would give them," said Morales. "In order to maintain our durability and comfort we used the high strength-to-weight ratio of our popular Taclite™ fabric. This allowed us to keep the strong rip-stop weave and add the extra functionality that stretch delivers."
With their first product using Flex-Tac, 5.11 Tactical explains further:
"As the leading Tactical pant supplier for law enforcement we challenged ourselves to bring you performance innovation beyond anything currently in the market. The 5.11 Stryke Pant with Flex-Tac™ is the next generation of the Tactical pants. Flex-Tac™ is a revolutionary fabric utilizing proprietary fibers and developed exclusively for 5.11 Tactical. The lightweight, breathable, poly/cotton ripstop incorporates mechanical stretch yarns, meaning the stretch and recovery of the fabric is achieved without the use of spandex. As a result, the breathability, color retention, and durability of the Flex-Tac is superior to other cotton/spandex fabrics currently in the market.
The 5.11 Stryke Pant with Flex-Tac™ is soil, stain and fade resistant, and comes out of the wash ready-to-wear. We have redesigned the silhouette with a sleeker, faster look utilizing slanted inset side cargo pockets. In addition to the thigh cargo pockets there are two off-seam side pockets, two accessory pockets on each side, and two back flap secured wallet pockets providing you maximum storage capacity. The knees are discreetly reinforced with knee pad access inside. We have redesigned the self adjusting comfort waist with a lower profile look providing maximum comfort and range of motion. Another nice feature is the two front belt loops also double as a badge holder."
Gauging from the photos and video, the Stryke Pants offer a more stylish, yet rugged performance tactical trousers. Whilst it takes its inspiration from denim, the Flex-Tac is fade resistant, as compared to denim trousers which start to fade when washed, which for many fashionistas would have more value that they even buy expensive RTW faded jeans.
The Stryke Pant with Flex-Tac is available now at the 5.11 website with a retail price of US$75.00. You can check with your local tactical gear sellers when they will have this in stock.