Congratulations To The 4th Airsoft Players' Choice Awards Winners!
OptimusPrime
10 Feb 2014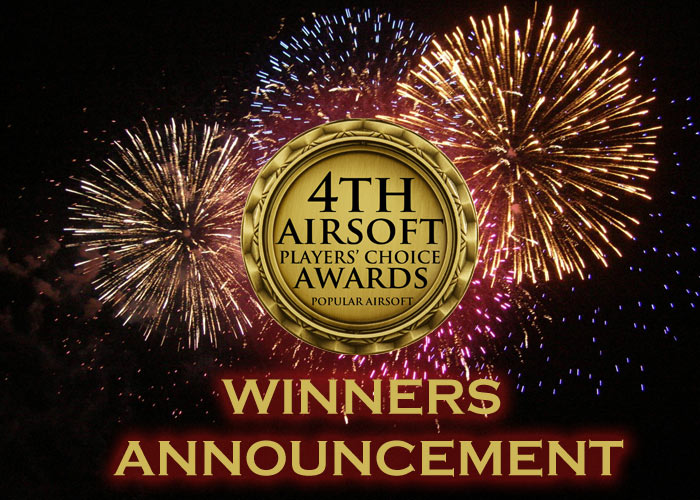 After two months of waiting, we are proud to announce the winners of the 4th Airsoft Players' Choice Awards. The winners were selected by you, our dear readers, through your participation in both the Nomination and Voting Periods. All winners announced here garnered the most number of votes in their respective categories.
In some categories, winners have been able to maintain their "titles" since the beginning of the Awards, and being voted by Popular Airsoft readers each year. If these winners will win again in the 5th Airsoft Players' Choice Awards, then they will be part of the Hall of Fame. That will make their tasks of being winners again doubly hard, but that will translate into better products and services to airsoft players.
We look forward to seeing your participation again in the 5th Airsoft Players' Choice Awards. Raffle Prize winners will be announced tomorrow.
Here is the list of the 4th Airsoft Players' Choice Awards. Our big, big, big CONGRATULATIONS to them for winning:
Best Airsoft Retailer for North America
Evike.com
Best Airsoft Retailer for Europe
Gunfire
Best Airsoft Retailer for Asia
RedWolf Airsoft
Best Airsoft Magazine (Print or Digital)
Airsoft International Magazine
Best English Language Airsoft News Website
Arnies Airsoft
Best Non-English Language Airsoft News Website
Witryna Maniaków Airsoft Gun (WMASG)
Best Airsoft Blog (Any Language)
Hyperdouraku
Best Airsoft Community/Forum
Airsoft Verzeichnis
Best Airsoft Video (Posted Online) in 2013
Airsoft VS Reality
Best Airsoft Event (with over 500 players) in 2013
Border War 5
Best Airsoft Podcast or Video Channel
Airsoft GI
Best Tactical Gear Maker
Condor Outdoor
Best Eye/Face Protection Maker
ESS
Best Action/Helmet Camera Maker
GoPro
Best Airsoft Upgrade/Parts Maker
Laylax
Best Airsoft Kaboom!
Airsoft Innovations
Best Airsoft Pistol (Regardless of Power Source)
Tokyo Marui Colt M1911A1
Best Airsoft Gas Rifle
KWA KRISS Vector
Best Airsoft Electric Gun
Tokyo Marui HK416D New Generation AEG

Best Airsoft Manufacturer
Tokyo Marui
Special Airsoft Player Award
Scout The Doggie
Special Popular Airsoft Award
Australian Airsoft Council
For their efforts in campaining for the legalisation of airsoft in Australia
If you are a winner, please do get in touch with us as soon as you can. Winners who will be attending the IWA & Outdoor Classics 2014, please do inform us at once as awarding to the winners will happen during the event.
Our commiserations to the other finalists who were not able to win in their categories. Just being one of the top in the category already means so much as it means airsoft players appreciate the service and product that they have provided. There is still another year of improvements to be able to get that award.
Our heartfelt thanks to our Sponsors and Supporters, without them, the Awards would not be happen. The 4th Airsoft Players' Choice Awards has the biggest number and we hope more will join in the next awards. Please do take time to click on their logos and visit their websites to learn more about them:
MAIN PRESENTER

GOLD SPONSORS
SPONSORS
See you at the 5th Airsoft Players' Choice Awards!