Cybergun Speaks Out
OptimusPrime
06 Nov 2010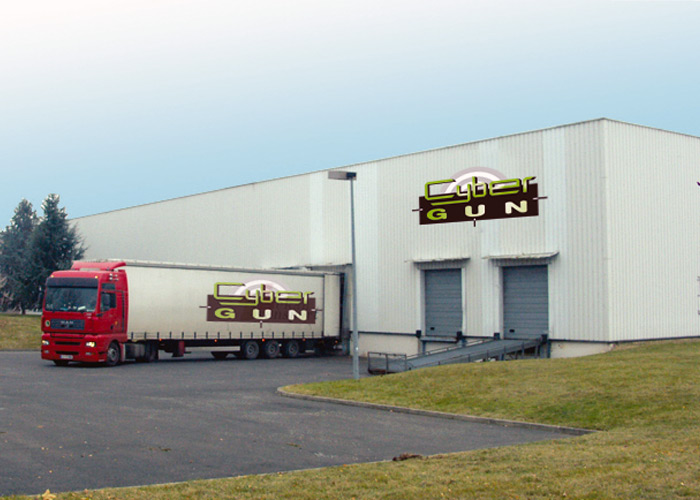 Cybergun went through two name changes before it became known as Cybergun. It traces its roots in 1983 when Jerome Marsac and Vincent Bouvet were into the importation and sales of hobby toys under the name Commercial and Industrial Bouvet Marsac (CMB), which was then renamed as Les 3 Pylônes (Three Towers) when they started distribution of model trains in 1986. They then launched and registered Air Soft in the 1993 to enter the airsoft replica business with the idea of licensing the trademarks of the top weapons manufacturers. In 1998, they developed and patented transparent plastic firearms replicas and patented the BAX system which maintains velocity and power over longer distances. In preparation for its Initial Public Offering (IPO) in 1999, Les 3 Pylônes changed its name into Cybergun and entered the US market.
Through licensing deals and acquisitions, Cybergun have expanded into other markets and established offices in the US and Asia. It has gotten more licencing deals and recently has signed up FN Herstal for its trademarks use, acquired Inokatsu for the high end airsoft market, and bought Spartan Imports, the largest distributor of airsoft guns in the US West Coast. As of 2009 the company has reported US$70 million in revenues.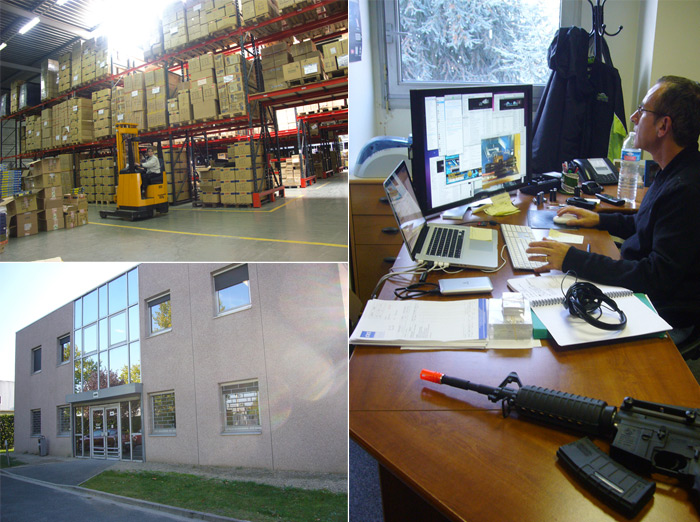 Above Photos: Cybergun main office, Bondoufle, France
While Cybergun is a formidable airsoft company, being the only publicly listed company in the airsoft industry, it has some issues with the larger Airsoft community --- mainly an image problem as brought about by legal skirmishes among airsoft retailers in the United States based on IP protection of their licenced trademarks, and the proliferation of airsoft products sold by Walmart and other big retailers that are readily available to children who play Airsoft unsupervised. Cybergun disputes this as the "larger airsoft community" here "are not representative of the large Airsoft Community only a share portion of the elite player" [sic]. Furthermore they clarify that none of their products are available to children under the age of 18. None of their retailers "are allowed to sell to anyone under 18 years of age, in order to promote adult and parental supervision of Airsoft."
The airsoft community want to protect airsoft's image as a safe sport with responsible players but these ready to access airsoft guns are not helping with injuries happening among young people. Cybergun disputes this as untrue, that they "NEVER had an action taken against us for injury to ANYONE—NEVER. Even the CPSC has difficulty finding evidence of injury from Airsoft."
Their transparent Airsoft guns have been a cause of consternation among US players with their support of a previously proposed legislation in California that all airsoft guns be made transparent. Cybergun clarifies that "There was never such support by Cybergun—This is an untrue statement. In fact it was Cybergun who, through discussion with the California Attorney General, stopped the move by California to make all replica Airsoft and air guns/ BBguns (all BB Devices) from having to be clear, red blaze or blue blaze, or bright green. We did, and do, however, support fully the move by the State of California, New York, New Jersey, and others requiring that anyone purchasing a Airsoft gun be 18 years of age or older." Which is fair enough, Cybergun needs to air out what has been said about their company regarding such allegations.
Cybergun, while known for their transparent and clear airsoft guns, they also make clear that half of their business now are RIFs (Real Imitation Firearms) which serious airsoft skirmishers buy.
US airsoft players are especially wary about any business moves of Cybergun to have a bigger chunk of the airsoft market with one airsoft blog site, Thumpy's 3D House of Airsoft, even dedicating a page towards monitoring the moves of the company, called the Cyber-G watch. If you google "Boycott Cybergun", you'll come up with results detailing the gripes of airsoft players about the company. Furthemore, whilst Cybergun can be read through third party reports, such as financial websites, as they are a public company, not much is written about them at actual airsoft web sites and publications. To this, Cybergun replies that:
"Many times we tried to work and communicate with the blogs and Airsoft sites, but our information was constantly twisted and stated incorrectly. What could be our interest to communicate honestly with some website if a minority spend their time to twist our words or actions to their advantage?"
Is there a disconnect between Cybergun and the airsoft community? There are hard questions that we want to ask Cybergun on their airsoft business, and we have asked Thumpy to send us questions that have been bugging him about the company for us to include. We were able to get in touch with Cybergun, and were directed to Christian Dauriac, the Head of Marketing and John S. Steele to answer our questions. We hope that this initial interview with Cybergun gives us a better understanding of the company.
Popular Airsoft: Thank you very much to agreeing to have an email interview with Popular Airsoft. At present, what is the outlook of the airsoft industry from the perspective of Cybergun?
Cybergun: First let us say that your introduction is filled with inaccuracies, untruths, and sweeping statements that are simply wrong. This is an adversarial article using false information as its premise.
The Airsoft industry continues to grow at a rapid rate— It has become a family activity that with parental supervision, is safe, fun, and inexpensive to participate. In addition the participants in gaming on an organized level continue to grow as young participants outgrow the entry level product, and buy more and more sophisticated guns to use in gaming.
Your recent acquisitions show that there's a move to the higher end airsoft market. Will this mean lesser focus on the "toy" portion of your business such as those products that large retailers such as Walmart and K-Mart are selling?
No. The entry level products we sell are NOT toys, and remain an important part of our business, and more and more participants in Airsoft begin at this level every day. Let me also say that it is not just the mass market that sell our entry level product, but every sporting goods chain store also sells our merchandise to their customers, and as they continue to sell the entry level product, most also are putting in up market product as well, i.e. AEGs retailing at $150 USD and more, providing their customers more and more choices for their Airsoft activities.
Is it correct that with your strong presence in the US, that it is by far your largest airsoft market? In what other regions of the world do you see some growth in sales of Cybergun products?
The US is our largest market. We have penetrated every line of trade there. Europe, Asia, and Eastern Europe also continue to grow at astounding rates.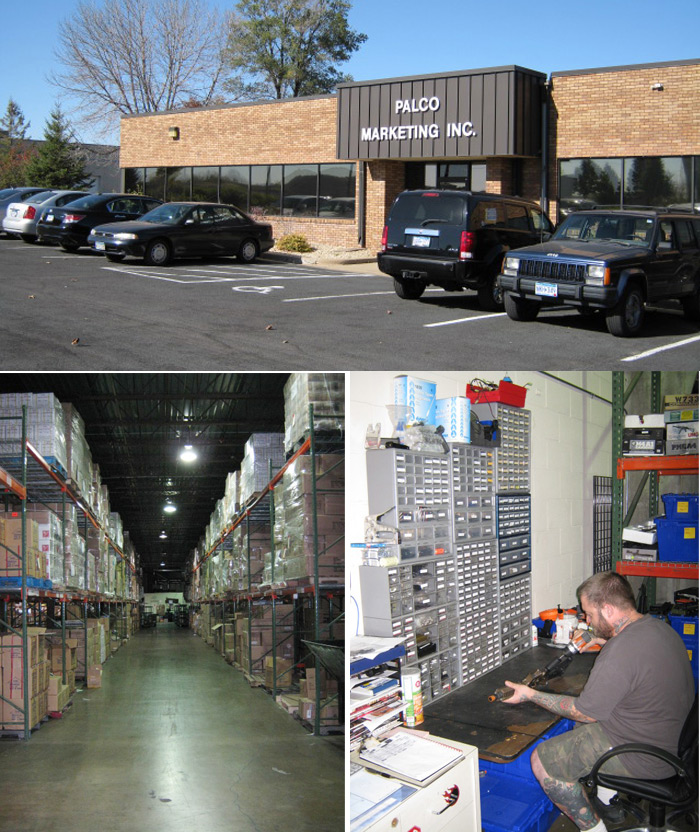 Above Photos: Cybergun's Palco Marketing Inc. (US)
The largest segment of the U.S. market is primarily a beginners'/newcomers' market, so we understand the need for low-priced alternatives. But, by marketing certain Cyber-G guns, in particular, your line of $20-to-$50 clear plastic pistols with mostly plastic internal parts at the big-box stores such as WalMart/K-Mart and others, CyberGun's reputation for durability has suffered with the most-solid airsoft "base." Players with more than a couple of years experience generally steer new players away from your products on two issues: their short-term durability and low quality of your guns, as well as the mass-marketing of those pistols in a way in which they could be readily misused by purchasers who could care less about the reputation of airsoft.
It is a complete false statement: Cybergun has today the strongest QC and R&D team in Asia with 20 staff running to dozens of sub-contractors rejecting batches when they are wrong.
In fact, several instances have been recorded in the US media of low-end replicas being repainted and used in the commission of crimes. How might you respond to that criticism, and are there any plans to limit sales of your products as a behind-the-counter/18-years-of-age and up purchase only? Can you impose those terms on resellers like WalMart, or are you at their mercy once the contract is signed for them to sell your products?
We do not now, nor have we ever sold our products to anyone under 18 years of age in the US. This is another case of misinformation upon which this interview is based. We control EVERY single retailer we deal with on this issue. Purchasers must be adults. We do this in the effort to promote adult and parental supervision of the use of our products. We warn in very strong language that these are not toys—and children should use only with adult supervision.
As to the use of our products in crimes, this is a non-issue since BB guns and Airguns have no restrictions what so ever regarding identification as non lethal. Airsoft guns cannot come into the country WITHOUT a blaze red muzzle to indicate to law enforcement that this is a non lethal product—Airguns and BB guns, on the other hand MAY NOT have a blaze red muzzle since in the US they are considered LETHAL, and BB guns and Airguns can kill.
BB guns and Air guns are used more often in crimes than Airsoft. We also supported a law in California which makes it a crime to paint an Airsoft gun a color other than its original color.
How dedicated is your company to making quality and innovation, not just profitability, key parts of your product line? Do you plan to offer airsoft guns and accessories that are more durable, or offer better terms on service and parts in the future?
It is an old and complete false opinion that our guns are not durable. Year after year, we have constantly improved the quality of our products to obtain an high level of reliability. Our rates of damaged returns are lower than almost any product used in active play from any other company, so your premise is totally incorrect. We have also efficient QC centers based in Asia which control strictly all the shipments.
Quality and innovation equal profit. Profit seems to be a word that truly bothers a very small share of the airsoft elite . The truth is all Airsoft makers and distributors are profit making businesses.
We are constantly working to improve service, as is any successful business, and we work to make our products better quality, longer lasting than they are, and more fun and safer to use. We make a safe high quality product, but always want to make it better for the consumer.

Above Photos: Cybergun's Softair USA Office and Warehouse
How are you dealing right now with intellectual property issues, such as the use of trademarks that you have licenced from the various arms manufacturers? We know that you have issues about airsoft products coming from Mainland China that do not have the properly-licenced trademarks, were you able to come out with an understanding with them?
We have no trademark issues with products coming from Mainland China.
With regards to the Smith & Wesson legal issue, how far have you gone to settling such a lawsuit? Do you see Cybergun still maintaining the S&W license for your products?
This is an issue still in litigation, and we are unable to comment.
Are there any specific restrictions about marketing from France, or import into the EU that are causing you concerns or concerns by your investors and shareholders? With strict environmental and product-content regulations, it seems that moving your operations to HK, or to the US, might offer you some more efficiencies in the future. Is that a possibility?
We have no issues in this regard. Our European business has the highest rate of growth right now. There is no thought of moving our Headquarters.
With your recent acquisition of Inokatsu, are you going to maintain the Inokatsu brand, or use the Cybergun brand on new products made by Inokatsu? Would you move production to Mainland China or maintain it it Taiwan?
It will remain exactly as it is and where it is.
How are you reaching out to the airsoft community? Have you made any efforts in learning about what they want and need and of course improving your image among solid Airsoft players?
We attend dozens of events in the USA currently, and show our products to the gamers—let them try them out, use them for the day, and generally try to listen to their wants and needs.
In Europe, CYBERGUN supports large numbers of Airsoft teams and we are working now hard to provide battle fields where Airsoft teams can play safely and quietly. We are also very active to help the young teams who wish to organize their first event.
Does Cybergun see itself an active participant in the airsoft community? For curiosity's sake, are the members of the company, from CEO down, airsoft players themselves? Do you encourage employees and management to be active in playing Airsoft?
As with any large group—some do participate, some do not. We encourage our employees to participate in gaming, and provide them with product to give away during their events (like bbs, holsters, back packs, scopes, and other accessories). We do not, however demand or require attendance or participation.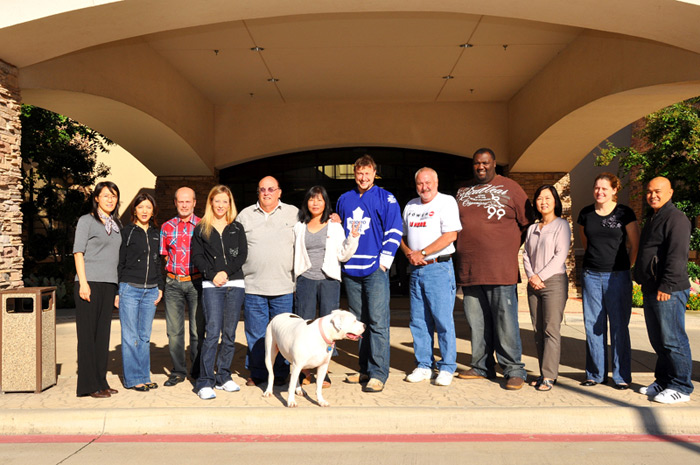 Photo Above: Softair USA Team
What products do you plan in the next few years? How do you foresee the evolution of airsoft technology? Will Cybergun be at the forefront of investing in Research and Development to develop new technologies for airsoft guns or would rely on existing partners in the Asia on Airsoft R&D?
We currently invest huge sums in R&D, more than 1 million € by year, and indeed have our own lab for R&D in France, headed by a man who has invented and patented many of the Airsoft technologies currently in use in most Airsoft guns today (BAX, Hop Up, and the unbreakable trigger safety). In five years you will not believe the new technology you will see. If you could travel forward in time you would not recognize or see any of the current systems currently used in Airsoft—Can I tell you what they will be—no—we can't tell our competition what we are doing, but we work with our factories in China, Taiwan, South Korea, and the Philippines every day developing the Airsoft of tomorrow.
What don't we know about Cybergun that you think the airsoft community SHOULD know? We are sure that, as you are taking questions from airsoft media, and are putting your money into the marketplace, you hope to succeed even more. Do you plan to share more positive news that we might help spread?
We are a company dedicated to providing FUN Airsoft products to everyone, from the beginner to the most experienced —and in the safest most eco-friendly way. Cybergun acts "by the book" in working with the American Society for Testing and Measures, the Consumer Product Safety Commission, and ANSI with regard to not only Airsoft, but air gun and BB gun safety as well. We would very much like to work with the serious gamer to find out how we can give them what they are looking for, for the best value in the market. It is discouraging to us to see all the misinformation about our company. We are a business, and we have licensed many of the major firearms brands in the world—but what most do not realize is that we have been asked by our license partners, like Colt, or FN, to protect them from counterfeiting of their names on Airsoft. It is our responsibility to do so and we will continue our program of stopping counterfeit Airsoft.
Thank you very much!
You're welcome!
(Our thanks to Thumpy for helping out with this story)