Ares Amoeba AM005 1 Minute Review
OptimusPrime
24 Feb 2020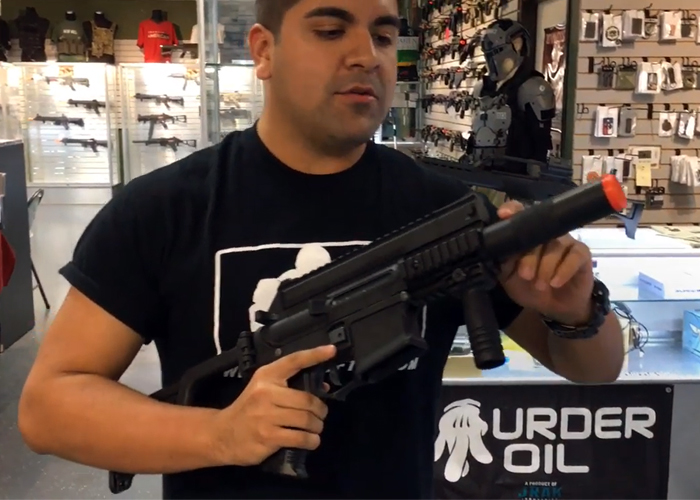 Here's another 1 minute review by Isaisas of Airsoft GI featuring the Ares Airsoft Amoeba AM005 AEG... "The ARES Amoeba AM-005 is another well-built airsoft gun. Its compact design serves a great purpose in close quarter environments. Externally, the Amoeba features a polymer upper and lower receiver. This airsoft M4 submachine replica has a foldable stock that can be adjusted on the fly for turning tight corners.
Hone in on your target using the flip-up front and rear sights or attach your own optics to the upper Picatinny/Weaver rail. The unique design features an engraved logo on the left side. Distributed by Elite Force, the ARES Amoeba SMG Gen 5 is officially licensed from the original manufacturer. Internally, this gun contains well-known ARES internals. It is constructed using a polycarbonate piston with full metal tooth rack, steel gear set, ported polycarbonate piston head and electronic control unit.
The electronic control unit is programmable to be switched to burst fire or semi only. A full metal version 2 gearbox has the toughness you need for long sessions. And with a 300-round magazine that accepts all BBs 0.20g or larger, you'll have the ammo for those sessions as well.
Overall, the Amoeba AM005 AEG is another well-built close quarter airsoft gun by ARES.
Specifications:
Manufacturer: ARES
Model: Amoeba
Muzzle Velocity: 290-300 FPS
Magazine Capacity: 300rds
Color: pick a color
Package includes: Gun, Magazine
Features:
Polymer Upper / Lower Receiver
Quick Change Spring System
Electronic Control Unit"