Eotech Lens Protectors & ACOG Kill Flash On Amazon
OptimusPrime
03 Jul 2022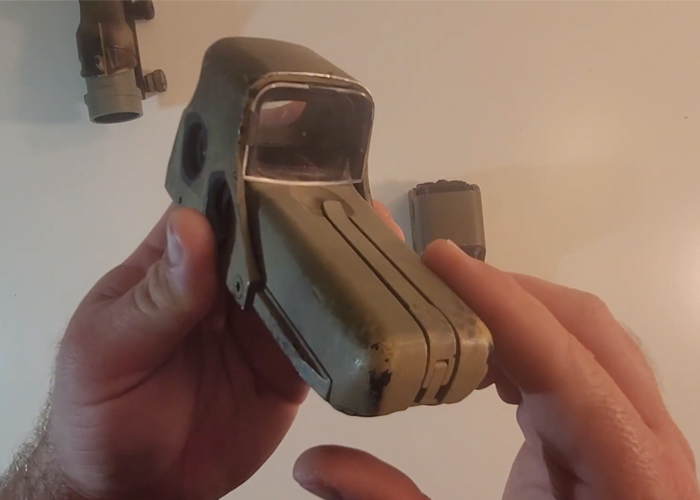 Muddy Reviews tries lens protectors and kill flash that can be found on Amazon if they are worth using on your airsoft optics such as the Eotech and ACOG replicas... "Hey everybody welcome back to another Muddy Review, in this episode we are looking at Amazon Eotech Lens protectors and ACOG Kill Flash and trying to answer the question, are they worth it?
I decided to give these optic protection items a try before my most recent outing to play Airsoft as I wanted to see how they would perform given their relatively inexpensive price point. First up we have the FIRECLUB ACOG Killflash or as it is listed in the Amazon listing "Scope Round Meshy Cover Kill Flash Anti-Reflection Device for ACOG 4 X 32 Scope" Gotta love that description. I installed the kill flash in question and after filming had to find a small bit of plastic to shim under the front to keep it straight and the "rubberband" bit that comes with it to secure it to the ACOG broke in about 20 minutes after installation. I used a medium black zip-tie in place of that to secure it to the ACOG as I had done to my TA31 RCOs kill flash in Iraq. The Kill Flash worked great the entire day of play with those small changes and took bb strikes with no issues, so other than the shitty band and the fact it sits wonky as hell with some TLC it is worth the 11.99$ I guess to keep your considerably more expensive toy ACOG from getting blown out.
It was 11.99$ USD with free Amazon Prime shipping.
Next up we have the SP Holographic Sight Front Len Protector for Eotech AEG GBB Airsoft guns, these had mixed reviews on Amazon and the chief complaint was they were "Wavy" and caused distortion to the EOTECH once on the optic. I had the exact same issue with one more than the other as I opted for 2 of these to see what my chances were. I installed one on my real EOTECH 552 and the other on my Holy Warrior Eotech 553 (you can find a link to my review of that amazing EOTECH replica here: https://youtu.be/IZnlL8IpaZ8). The Holy Warrior would not accept the protector with the top "tang" in place so I took a Dremel and cut it off. The protector went on just fine without it and there was not a noticeable gap.
The protector on the real EOTECH was very distorted whereas the one on the 553 replicas was decently clear, but neither was great. I have to say for 9.00$ USD each I think these are a complete waste of money. They may or may not have worked, we didn't go home with a busted protector or EOTECH but I am not 100% certain they were hit either. I would say buy a sheet of Lexan and practice making your own that can press-fit onto an EOTECH you will save money in the long run and have a clear lens protector that you know will take the BB strike.
As I said, I paid 9.99$ USD each and wasted 20.00$, But that is kind of why I am doing these reviews so you don't waste your money. I hope this helped and as always, thanks for watching!"