Evolution Ghost XS EMR A With ETU System
OptimusPrime
04 Nov 2020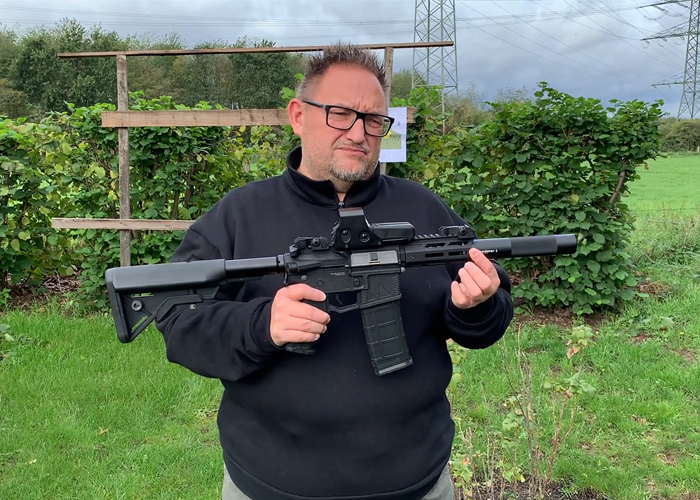 Softairzone goes over the features of the Evolution Airsoft Ghost XS EMR A with ETU system that they have available... "In this video, Softair.zone shows the brand new Evolution Ghost XS EMR A with ETU system. Evoltution shows with the Ghost series which 9 models with different lengths comprises a modern contemporary range of Airsoft.
With its compact, futuristic look, the Ghost stands out on every playing field. The body has a suggested hex look and is made entirely of fiber-reinforced carbon tech. The handguard with the M-Lok Rail system is made of metal. Evolution has also improved the flip-up sights, which used to cause problems due to their outdated technology. These can now be operated perfectly and easily and are no longer made of plastic but of metal.
Also new is the beautifully designed mid-cap magazine with 120 rounds. The indicated hex look can also be found here. The V2 Reinforced Gearbox has been revised for the Ghost series. It is now even stronger in the front area. Inside there is a high quality piston and ventilated plastic piston head. These are durable and really have no sharp edges or burrs. The teeth are made entirely of metal, the cylinder is made of black metal and the cylinder head, which is also made of plastic, has 2 sealing rings. The cylinder head and the wallpaper plate are made of stylish orange. Likewise the plastic nozzle. The heart of the Gearbox, however, is the brand new ETU chip. It has an electromagnetic trigger unit, active break, full cycle control (similar to Systema PTW) and a Li-Po save.
In the test, the system failed to reach its limits. It works very precisely and did not show any weaknesses even with very fast triggering. Out of the box, the hop-up in drum design does a very good job. Of course it can be improved with a Maple Leaf Macaron or Diamond 50 ° / 60 ° rubber. In strong winds, the Ghost has a good shot pattern at 30 meters with 0.20g BB. The weapon is perfect for CQB or Speedsoft."