EyeTactical C220 BAFP Face Mask
OptimusPrime
07 Feb 2008

This one from EyeTactical looks like a gas mask, but it actually offers comfort and protection while playing... "The C220 BAFP Face Mask is unique to Military, Law Enforcement industries and Paintball / Mil-Sim. The system offers facial protection against flash and burn and low level ballistic injuries with its Kevlar / Nomex mask insert and neck protector. Comfortable and lightweight, it provides the user with constant, filtered airflow resulting in a cool environment.
The constant flow of oxygen also reduces fogging of the lens, minimizes pulmonary stress and provides optimal breathing conditions in humid, heated and stressful environments.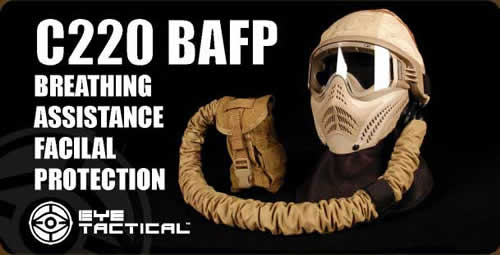 The C220 BAFP can contribute to mission success by helping to extend the operational endurance, strength and mental acuity of the wearer while facilitating work performance.
The system includes two D-CELL batteries for 40 hours of operational time."