Frog.Pro Modular Reconnaissance Task Bag
OptimusPrime
04 May 2021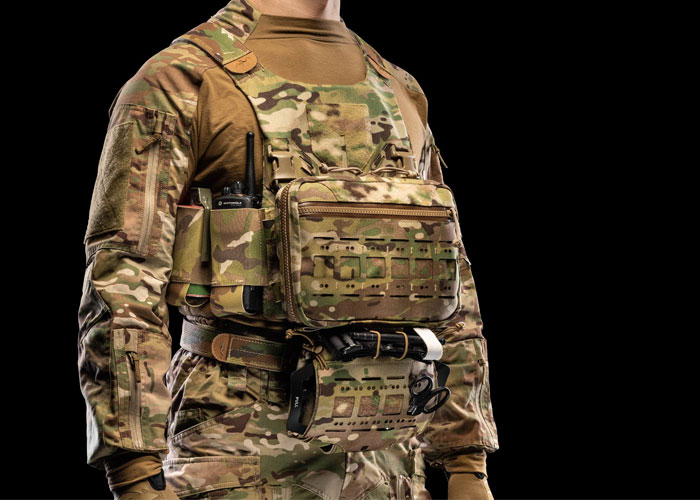 The Frog.Pro Modular Reconnaissance Task Bag is available to purchase at their online store... "The Modular Reconnaissance Task Bag was designed to provide a discreet and low-vis solution within the Modular Reconnaissance ecosystem.
The MRTB can be equipped in several ways:
as a standalone chest rig in conjunction with the Light Reconnaissance Harness and the Task Bag Pad Air;
as a placard mounted directly on Defender Low Visibility Plate Carrier or other plate carriers;
as an abdominal pouch on either plate carriers or chest rigs via the V2Z Abdominal Adapter.
This extremely high degree of flexibility and modularity is the core of the MRTB. Due to its adaptability, this piece of equipment is able to assist the operator in any task, hence the 'Task Bag' denomination.
When used as a primary platform, both in a chest rig configuration as well as mounted on a plate carrier, the MRTB offers a discreet and secure method of carrying the equipment. Nav/Leadership, medic, sniper and breacher are just some of the countless designated roles that could benefit from such a modular and user-configurable design.
The MRTB features one main zippered compartment secured by YKK® Aquaguard water-repellant zipper, fully covered on both sides with Velcro® loop. The addition of our proprietary Multi Purpose Organizers allows for an even higher level of flexibility. The retention provided by a cord secured by a GTSP Cordloc allows the user to quickly adjust the opening of the pouch for a more suitable opening angle depending on the nature of the content. Two zippered pockets are placed on each side, providing a very hidden location for documents on the body side and an accessible storage on the outer side.
The two pockets can also house 10in. x 7in. ballistic inserts which can provide full torso coverage when the bag is opened 180º.
The true modularity of the MRTB comes from the suite of product and accessories (some already available and other coming soon) that allow the user to configure his platform even further. The Ultra-Mate® hook backing not only makes it possible to attach this bag to another platform, but also provides the ability to equip other pouches on both of the sides as well as at the bottom. To achieve this high degree of modularity the shape and sides of the MRTB are slick and streamlined, therefore the most effective and efficient attachment are the G-Hooks.
The 6 columns LAHYCO PALS MOLLE grid on the front portion allow to mount even more pouches and equipment.
The MRTB comes with:
n.6 ITW Nexus® GTSP Cordloc
n.4 meters of shock cord 1/8in.
n.1 Multi Purpose Organizer TB horizontal
n.1 Multi Purpose Organizer TB vertical"