New 5.11 Tactical Products For 2021
OptimusPrime
03 Feb 2021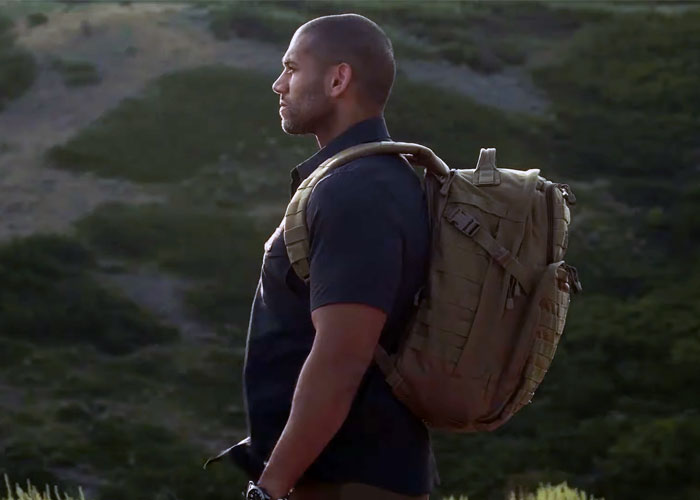 5.11 Tactical announce a bunch of new products for the year, which includes backpacks, hydration, training gear, battle belts, footwear, and more. If you are interested in getting any of these, contact your nearest gear retailer or airsoft store to enquire when they are going to have these in stock. Press release below:
5.11 Announces New Products for 2021
Irvine, Calif. (February 1, 2021) – 5.11, Inc., the global innovator of purpose-built gear, has revealed new packs, apparel, footwear and accessories to be launched in Spring and Fall 2021. The 2021 product line includes all-new items along with updates to previous product offerings for outdoor adventurers and tactical enthusiasts alike.

5.11's brand mantra, Always Be Ready, has never been more relevant than it is today. In 2021, 5.11 supports this core message with products that enhance customers' ability to stay healthy, prepared and self-reliant. 5.11's most robust product offering across categories in years, the RUSH 2.0 collection provides users with versatility and functionality on the go, the A/T Series offers professionals a durable and highly technical support for all day performance and comfort, the PT-R series gives end users an opportunity to stay physically fit in any environment, and the covert Norris Low-Top Sneakers gives daily wearers the protection of a combat boot in a street shoe. Preparedness is the first priority, and 5.11's new products for 2021 were engineered to get customers there.

"Our end-users depend on 5.11 products and gear to ensure they can live the mantra of Always Be Ready," said 5.11's CEO, Francisco Morales. "That fact is a guiding principle as we work to design, develop and introduce new items into our offering. From public safety professionals, operators, and outdoor enthusiasts, we spend years fine-tuning products to meet their needs. We couldn't be more excited for the new gear we are bringing to market in 2021."

"This year we are expanding the 5.11 product range to offer something for multiple aspects of life," added Matt Page, Vice President, Global Product for 5.11. "We want to ensure our customers have 5.11 products to help them feel prepared and to perform their best, whether they're on duty, at work, training or active in the outdoors. In order to meet that goal, we've extended or updated many existing product lines with some exciting new products and categories."

After years of in-field testing and end-user feedback, the iconic 5.11 RUSH Series Backpacks, featuring 5.11's signature Center Line™ design – originally launched in 2007 with over 1 million sales since that time – is being reintroduced this Spring with the RUSH 2.0 Series. The new RUSH 2.0 Series is continuing to offer customer-favorite features such as durable 1050D-nylon construction, MOLLE platforms and multiple gear loops for ultimate customization, while introducing all-new aspects including a padded laptop compartment and a hidden concealed-carry compartment. Further updates include revised interior organization; a relocated hydration port; a larger fleece-lined eyewear and media pocket, and new color options. Capacities: RUSH12™ 2.0 (24 liters) (MSRP $109.99), RUSH24™ 2.0 (37 liters) (MSRP $139.99) and RUSH72™ 2.0 (55 liters) (MSRP $189.99). Also available in Multicam®.
5.11 RUSH 2.0 Backpacks
Designed utilizing four guiding pillars of durability, accessibility, functionality and versatility, the new Daily Deploy 48 Pack is a versatile pack offering 39-liter capacity and design features appealing for an application from every-day civilian use to professionals requiring their essential gear organized and accessible. A side brief opening offers full access to a loop lined main compartment and secondary compartment, while a dedicated rear compartment perfectly houses a laptop or hydration system. RUSH Tier compatible with front and side MOLLE webbing, this pack is as versatile as they come and will be available come Spring (MSRP: $159.99). For those that need the versatility of a tactical pack but in a discrete look, the new 32-liter COVRT18 2.0 provides everything from concealed-carry and flex cuff storage to a TSA checkpoint friendly laptop compartment and tuckable logos for the ultimate covert solution. (MSRP: $139.99)
5.11 Hydration System

To complement its enhanced line of packs, 5.11 has partnered with Hydrapak® to produce an ultra-durable, 3-liter hydration system with a fixed center baffle for a slim profile. The new WTS and WTS Wide 3L Hydration Systems (MSRP: $44.99) work in conjunction with 5.11's convertible hydration carriers. The Convertible Hydration Carrier (MSRP $54.99) converts from a backpack to a MOLLE pouch and attaches to a plate carrier/vest via the PC Convertible Hydration Carrier (MSRP: $59.99).
5.11 PT-R Collection

A whole new category of innovative training gear will be introduced from 5.11 this summer with the Physical Training-Ready (PT-R) Line. The PT-R Weight Kit 50 and PT-R Weight Kit 100 provide the customer a creative and portable solution to training when weights or other gym equipment is not available. The kits include two heavy-duty liner bags that can be filled with sand or other weighted material. The liners can be used as stand-alone weight bags or placed in the larger weight bag for weighted bag training. The liner bags and weight bags feature reinforced, non-slip grip handles to ensure durability and continued use. The PT-R Weight 50 Kit (MSRP: $149.99) holds approximately 25lbs of sand in each liner bag (50lbstotal) and the PT-R Weight 100 Kit (MSRP: $169.99) holds 50lbs of sand in each liner bag (100lbs total). When not filled with sand the bags can be packed into luggage and brought to any destination.

Further additions to 5.11's training gear include the TacTec® Trainer Weight Vest (MSRP: $139.99) and the TacTec® Weight Plate Sandbag (MSRP: $54.99) Inspired by the Tactec® Plate Carrier, the Tactec® Trainer Weight Vest is a low profile, lightweight and comfortable vest with adjustable stretch cummerbunds, front/ rear MOLLE and is compatible with Rogue® weight plates and the TacTec® Weight Plate Sandbag – a heavy-duty and adjustable bag that can be filled with sand or other weighted materials and secured in the vest allowing the customer to train anywhere.

The new inner/outer 1.75" Maverick Battle Belt features an ergonomic curve for maximum comfort and 5.11's proprietary TAC-LAM® high strength laminate on top of a dual nylon webbing. 1" and ½" laser-cut weaving opportunities ensure effortless arrangement of your duty and training gear complete with a COBRA® buckle. Available in the fall. (MSRP $149.99)

Another product implanting a unique, innovative and convertible theme is the ABR Plate Carrier (MSRP: $159.99). Covertly stored in a briefcase when not in use, the convertible plate carrier features laser-cut and web MOLLE, an admin pocket, adjustable shoulder straps and quick release waist straps.

5.11 A/T 8 HD

The All Terrain Load Assistance System (A.T.L.A.S.) Footwear collection that was launched in 2020 – and that quickly became a customer favorite – is being enhanced and expanded in 2021 as the A/T Series Featuring 5.11's A.T.L.A.S. Technology. The A/T 6 Non-Zip Boot (MSRP: $154.99) and A/T 6 Side Zip Boot (MSRP: $154.99) feature 5.11's Echo (high rebound) and Force (high impact) foam midsole with the A.T.L.A.S. plate for turning and stability control while carrying additional weight, the A/T 8 HD (MSRP: $179.99) offers the full benefits of A.T.L.A.S. technology along with a new heat deflecting leather and internal reflective strobel sock to reduce heat from the ground. The result is a boot that can provide comfort and stability for all-day duty.

5.11 Low-Top Norris Sneaker

The stylish, do-it-all line of Norris Sneakers is also expanding in 2021 with a Low-Top Norris Sneaker (MSRP: $94.99) this Fall. The same functionality and durability of the original High-Top Norris Sneaker will be available in 2 new colors including black/gum and dark coyote. The High-Top Norris is also getting an update this year with new colorways –coyote, storm, multicam, dark navy, black/woodlands camo, and black/white (MSRP: $99.99).
5.11 Men's Ridge Pant

Durable and functional apparel has been a staple of 5.11 since day one. 2021 will see new additions in all apparel categories for both men and women. The new men's Ridge Pant is constructed with a Flex-Tac polyester/cotton canvas and DWR treated for ultimate durability. Hidden pockets, low-profile cargo pockets, articulated knees and an updated fit add functionality to this stylish and durable pant. It doesn't get much more versatile than the men's Decoy Pant and its ability to easily be converted from pants to shorts and back. Add in eight pockets, including concealed cargo pockets, yoke utility pockets and more, along with 50+ UPF protection and a DWR finish, this is one piece of clothing that can do it all. For the bolder men of the world, the ultra-durable Commando Kilt featuring a DWR treated polyester/cotton ripstop fabric will be offered in Multicam this Spring. (MSRP: Ridge Pant $84.99, Decoy Pant $84.99, Commando Kilt in Multicam $94.99).

5.11 Women's Shella Pant

The Shella Pant is a new offering in the women's pant line. It features a straight fit and clean look while offering functionality for in-field and recreational use with low profile pockets, a DWR finish, and a polyester/elastane, 4-way stretch Enduro-Flex™ fabric. Women looking for a comfortable pant that can withstand the rigors of a hard workout will enjoy the Kaia Tight. It offers 5.11's reflective heat transfer, moisture wicking, anti-odor technology, and flat-locked seams for added comfort. Dual side pockets and a hidden interior waistband pocket allows wearers to comfortably carry valuables. (MSRP: Shella Pant: $74.99, Kaia Tight $64.99).

The men's apparel line also added shorts for the Spring with the Defender Flex Range Short (MSRP: $64.99), the Trail Short (MSRP: $74.99) and the Icon Short (MSRP: $74.99). The Defender Flex is designed to hold up to consistent wear, tear and humidity with strategically placed reinforcements in high-stress areas and stretch fabrics. Meanwhile the Trail Short is finished with a quick-dry, DWR finish that makes them an amphibian type short great for both on the land and in the water. The tough and popular Icon line is expanding to offer an Icon Short built to withstand long durations of outdoor use and abuse. It features a durable Teflon finish on a stretch fabric and enough pockets to haul gear for any mission or adventure.

5.11 Men's Wanderer Shirt

For tops, 5.11 listened to customer's request to offer Marksman Short Sleeve – after the long sleeve iteration became a favorite. The Marksman Short Sleeve offers 50+ UPF protection, a stylish button-up look, moisture wicking properties, underarm mesh gussets and two chest pockets to create a clean and comfortable shirt for any occasion. (MSRP: $54.99) 5.11 is excited to expand their Vent-Tac™ technology offering with two new novelty prints in the 99 Cans of Beer Short Sleeve Shirt and the Wanderer Short Sleeve Shirt (MSRP: $64.99, $64.99)

5.11 Women's Tessa ¼ Zip

Functionality, comfort and style are key elements for the new women's tops of 2021. The Tessa Full Zip (MSRP: $ 74.99) and Tessa 1/4 Zip (MSRP: $74.99) utilize a fitted cut and strong styling accents with a polyester/elastane jersey fabric that wicks moisture and prevents odors. The women's Nora Short follows suit with a comfortable and durable 98% cotton, 2% elastane stretch twill blend. Additional features of the Nora Short include dual back utility pockets with endure-flex pocketing and a comfort stretch waistband (MSRP $54.99).

For customers who desire to Always Be Ready in any and all conditions, 5.11 is introducing the Atmosphere Regulator System, a full, multi-layer clothing system designed for anything nature dishes out. The system starts with the Tropos Base Layer Tight (MSRP: $47.99) and Tropos Base Layer Top (MSRP: $47.99) that feature graphene yarn and flatlock seams for moisture wicking performance and comfort. Next the Stratos 1/4 Zip (MSRP: $69.99) is an all-season pullover with moisture-wicking and anti-odor capabilities, brushed tricot-lined inner collar and raglan sleeves for a versatile layer that provides a full range of motion. The Mesos Tech Fleece (MSRP: $94.99) full-zip jacket is made with anti-piling microfleece and strategically place N6-nylon overlays for extra durability. The Exos Rainshell (MSRP: $129.99) offers 20k-waterproof and 10k-breathable protection and comfort that is fully seamed-sealed to withstand any storm. Finally, the Atmos Warming Jacket (MSRP: $179.99) is parka designed to provide ultimate warmth is extremely low temperatures with polyester PrimaLoft insulation, a slotted button-front placket with webbing attachment, internal sleeve gaiters and under-arm zippers for venting when it's doing its job too well.
5.11 EDC K-USB Flashlight and EDT Pry

Customers looking for everyday carry tools will be happy to see new many new items from 5.11 that are keychain or micro hardpoint carabiner compatible. The EDT Hex comes with four tip fastening options including a Phillips and slotted screwdriver tips for everyday tasks and T6 and T8 Torx heads, ideal for knife tune ups, optics, and electronic devices (MSRP: $16.99). The EDT Pry features a pry tip that doubles as a flat-head screwdriver, a ¼-inch driver that works with standard hex bits, as well as a bottle opener (MSRP: $14.99). The EDT Rescue includes a carbide tip that can shatter tempered automotive glass, a web cutter that makes quick work of a stuck seat belt, and an oxygen key should you need it (MSRP: $14.99).

When it comes to EDC, knives embody "everyday" more than any other tool. The minimalist Base 1SF knife is a quick-access keychain edged tool. It features a 1.5-inch sheepsfoot blade constructed from 8CR13MOV stainless steel. With a one-handed thumb stud opening and frame lock, this tool can handle everyday tasks directly from your pocket. Measuring less than 4 inches when opened, it folds down to an easily carried 2.365 inches. Practicality simplified for on-the-go. Includes a split ring and micro Hardpoint carabiner for multiple connection options. (MSRP: $16.99)

The EDC K-USB Flashlight keeps 150 lumens at the ready with its keychain-carry design. With a body constructed from aerospace-grade aluminum and IP54 dust and water-resistant rating, it will withstand the daily beating of keychain carry. A battery status LED in the switch reminds users when actively recharging and fully charged. (MSRP: $32.99)

5.11 GTI Capsule

5.11 is thrilled to announce new products in collaboration with special forces veteran and leader in the tactical cutlery industry, Justin Gingrich, who pioneered the modern tactical tomahawk and has developed some of the most sought-after tactical knife and tomahawk designs. Gingrich teamed with 5.11 to design the Peacemaker CFA with a heat-treated steel blade and pick head with full-tang steel construction that's perfect for heavy field use. Best of all, the Peacemaker CFA swings with the accuracy and feel of a hammer. Its skeletonized frame reduces the weight (1 lb., 12.2 oz), which helps make short work bigger tasks. A textured handle, finished with a tactical pummel tip, provides a sure grip in wet and freezing conditions. It includes a protective sheath and four position belt/MOLLE clip with a 3" capacity. (MSRP: $149.99)

Gingrich also led the design of the CFK 7 Peacemaker (MSRP: $129.99). Thanks to the heat-treated steel blade and full-tang steel construction, the CFK 7 Peacemaker can handle tough jobs that lesser knives can't touch. Blade perforations reduce weight to help make short work of cutting, batoning, and carving. The textured handle, finished with a tactical pummel tip, provides a sure grip in wet and freezing conditions. It also includes a protective sheath with updated two position 3-inch belt/MOLLE clips.

3M Carbon Black Embellishment for 5.11

5.11 is excited to announce the option for 3M™ Carbon Black embellishment now available through the 5.11 Custom Shop in Manteca, CA. This patented reflective film has a high level of durability while still maintaining flexibility which makes this glass bead technology a perfect candidate for application to uniform and outerwear alike. Officer Safety is the primary intent of this product giving off-angle brightness in low-light situations, however, remaining a muted appearance during daylight conditions. Unlike other treatments, 3M™ Carbon Black will not lose the dark coloration or reflective properties while still maintaining a peak performance for the life of the product. Capability for embellishment is near limitless from custom agency or standardized law enforcement callout. Additional recommendations are to include piping around sleeves and stripes down pant and pocket to allow more points of viability.

"Every new product from 5.11 is designed with a purpose and introduced to meet the needs of our end-users," said 5.11 Chief Marketing Officer, Debra Radcliff. "At 5.11, we work closely with leading experts, professionals, and enthusiasts to offer gear capable of meeting or exceeding the high standards of our customers. Many of these new items are several years in the making, and we couldn't be more excited to add them to our assortment."