Nuprol Delta Pioneer Defender AEG Carbine Pre Two Tone
OptimusPrime
27 Jul 2021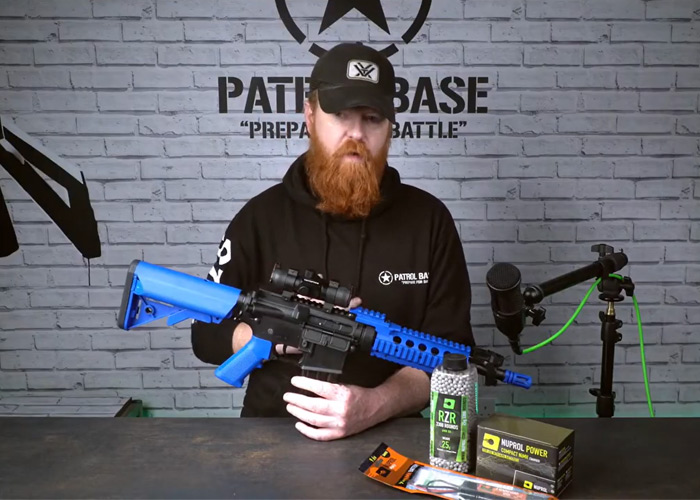 A quick overview on the features of the Nuprol Delta Pioneer Defender AEG Carbine Pre Two Tone recommended for beginners that is available at Patrol Base... "The internals are the really exciting part of the Pioneer Defender, sharing many components with top-end AEGs, including a quick change spring system, full steel tooth piston, a micro switch trigger, an excellent high torque flat motor and even a 6.03 tight bore barrel.
With internals like these, you can be safe in the knowledge that your Pioneer Defender will give you brilliant performance in game. Externally, the Pioneer Defender is constructed from polymer, resulting in an AEG which is light weight yet tough enough to handle the rigors of an Airsoft skirmish.
The most prominent external element of the Pioneer Defender is the 20mm RIS Rail System, featuring Quad Rails, giving you plenty of real estate for tactical accessories such as grips, laser and light modules, or even Airsoft grenade launchers, for those Airsofters who like causing havoc.
The upper rail also features a bridge riser over the delta ring, adding additional rail space, and also a 1/2" riser making it considerably easier to aim down the sights with full or lower face protection on. Using polymer on the external build means that there has been no compromise on the inner components, the Pioneer has the same internal componants as its higher end counterparts like the AK21.
The pioneer's internals share much in common with higher-end AEGs, such as the V2 gearbox, quick change spring, full steel tooth piston, micro switch trigger high torque flat motor and even a 6.03 tight bore barrel.
Pre-coloured in dual tone blue, this high quality and affordable AEG is perfect for people who are just starting to enter the Airsoft hobby and get straight into the action."