Shooting Maids With Even Bigger Guns At The Mil-Café
Gungho Cowboy
09 Apr 2013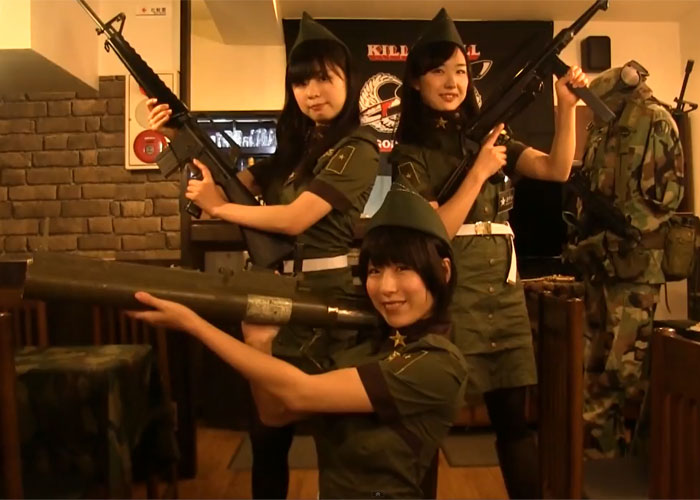 Going through this story at Hyperdouraku, I thought this was already the demise of the Mia-Café, which so far have been in my list to visit in Japan when the opportunity to do so for me appears. Mia-Café has been open for some years now and one of their famous shooting maids, Mie, has been mentioned several times here at Popular Airsoft. The good thing is that this Mil-Café was a temporary project between Hyperdouraku and Mia-Café.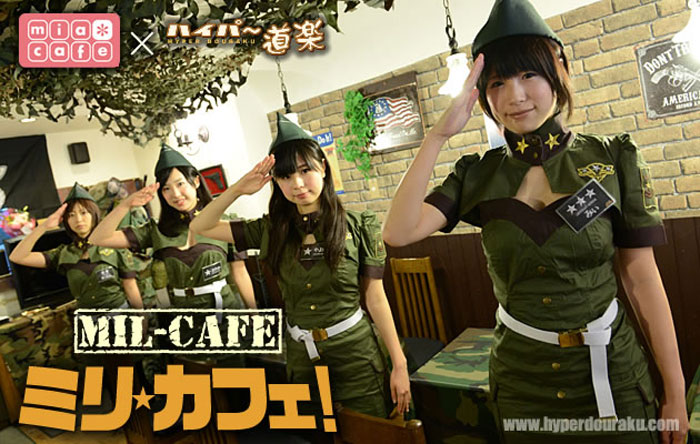 So what makes this "Mil-Café" concept different from Mia-Café? Well, it's basically what they call a more "hyperactive" concept of the Shooting Bar in Akihabara as represented by Mia-Café due to having Hyperdouraku as collaborator ("Hyper!" See!). In terms of armoury, the Mil-Café is a barracks concept and with an armoury that would put any JSDF company to shame given all the guns and gear the Mil-Café has --- a Barrett Sniper Rifle, a LAW, Minimi, Thompsons, and a whole lot airsoft and gun models dotting the place. The maids/waitresses are in uniforms that my imagination just flew and I'd rather have these women pose for the 2014 Hot Shots Calendar, if Edgar Brothers will notice them and agree to my opinion.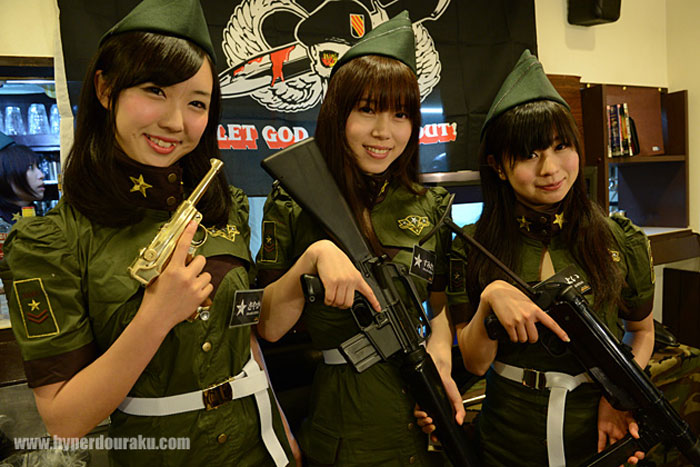 For those curious with what the Mil-Café has to offer, it's best to check their menu, and here's a list:
Keema Curry with Plate of Somalia (if we got a the translation right, and I love Keema by the way)
Hamburger Hill around Khe Sanh Plate
W of D Day beef sandwich
Grenada Hot Dogs
Fried chicken 7.6mm
Assorted sausage 5.56mm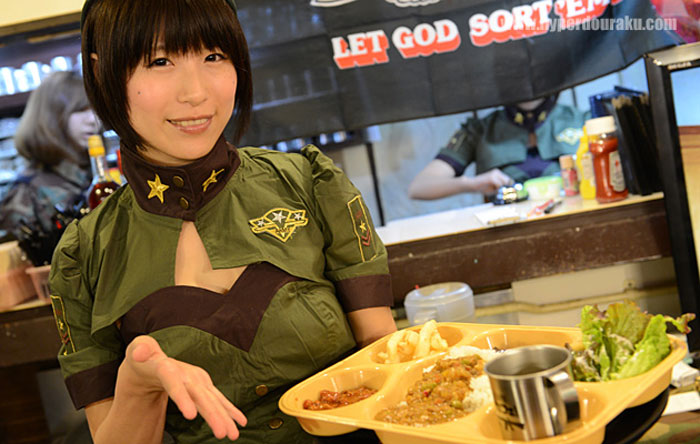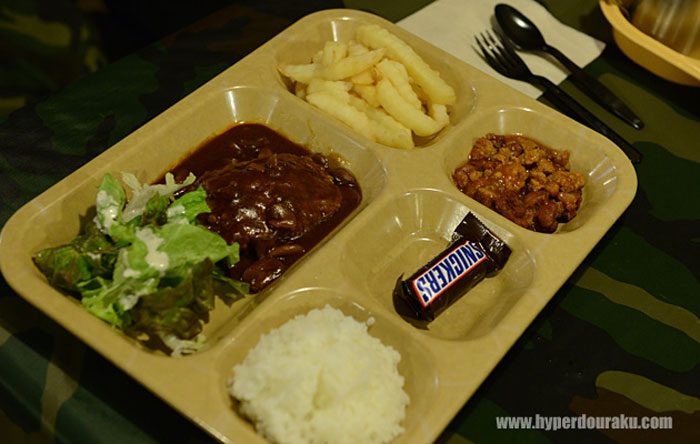 I don't know if you'll the menu will put your appetite in hyperdrive, perhaps a cafeteria-style plate would put you in a "canteen" mood that would put yourimagination in a war scene. But seeing all the lovely and sexy shooting maids would always make it hard to work on that imagination and just think about them. When you ask for water, you get to be served with a glass of water poured from a US-issue canteen.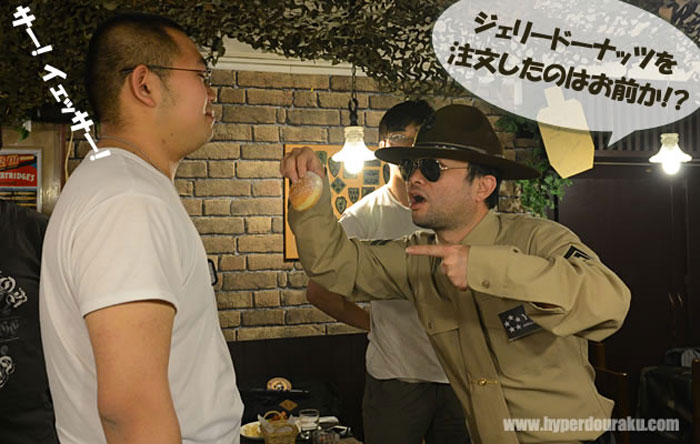 Whilst the gun décor are mainly airsoft guns, the M47 Dragon anti-tank missile is the real thing, though of course it's inactive one. I wasn't able to make some those name plates they have, but they do have all some army ranks indicated there and I wasn't able to find out what were those about.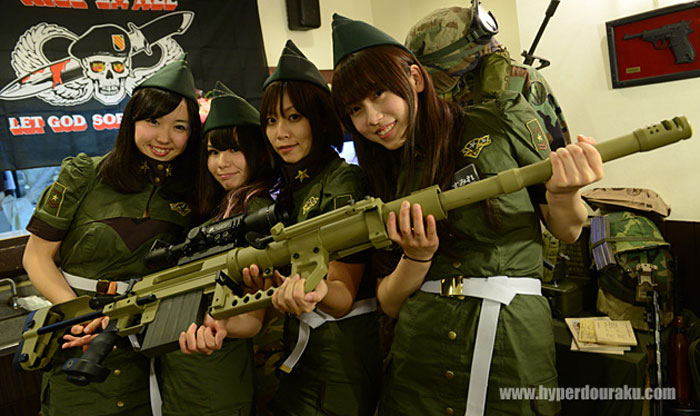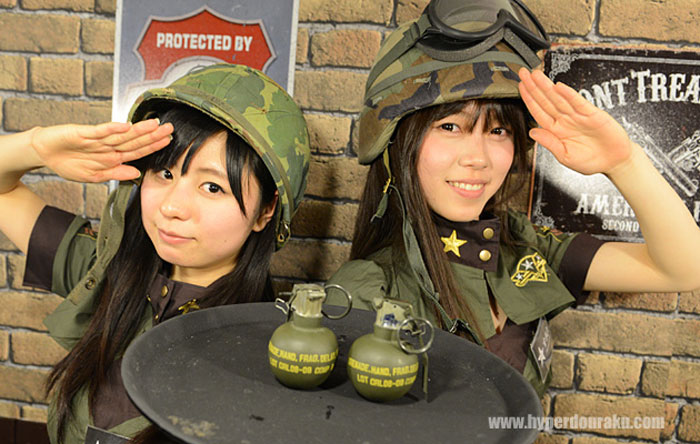 Now, before you all book your tickets to Japan to visit the Mil-Café, better make other plans as the Mil-Café was a two-day event by Mia-Café and Hyperdouraku and was held last 30 and 31st of March 2013. But if you're dead set to visit the Shooting Maids, then Mia-Café should be your destination, either in Akihabara, or their original café in Osaka.
Still, this story is breath of fresh air after looking at all the beards, guns and tactical gear that we look at when writing stories for Popular Airsoft. I can write about the Shooting Maids of Akibahara anytime. Now, enough of my words and watch the Mil-Cafe in action below:
More details and photos of the Mil-Cafe at the Hyperdouraku Airsoft Blog.