6mmProShop DSR-1 Advanced Bullpup Sniper Rifle At Evike.com
OptimusPrime
03 Apr 2020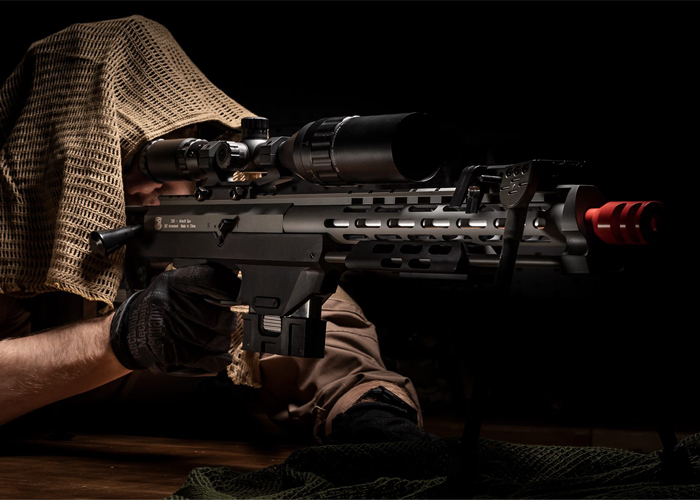 The hefty 6mmProShop Gas Powered Full Metal DSR-1 Advanced Bullpup Sniper Rifle is available at the Evike.com online store... "The futuristic DSR-1 bullpup style sniper rifle that has been featured in many popular video games and films is finally back and ready to rock the airsoft field (or your man-cave wall). Coming directly from the OEM of the original ARES DSR-1, this rifle returns just as you remember it; big, heavy, and intimidating.
With its precision CNC machined aluminum upper and barrel, this rifle definitely isnt lacking in the realism and weight department. To help offset some of the weight on this hefty rifle, the lower receiver and furniture is constructed out of fiber reinforced injection molded polymer.
The rifle features a fast short travel bolt and a forward magazine holster to help speed up the time between shots as well as reloading. Powered by green gas, this allows the bolt cycle to be smooth and almost effortless to manipulate. Built into the rifle are a set of adjustable steel folding bipods and an adjustable rear monopod to help with stability. For added comfort, the stock, cheek rest, and railed forward hand rest is adjustable for each shooter.
This specialized rifle was developed for police and counter-terrorist sharpshooters. Its bullpup configuration allowed for a full length match grade barrel to be used while still maintaining a manageable profile without sacrificing range or accuracy. The DSR-1 was adopted by the elite German GSG-9 counter-terrorist unit as well as various other European special police agencies for its remarkable accuracy and small profile.
Features:
Precision CNC machined aluminum alloy upper receiver
Fiber reinforced injection molded polymer lower receiver and furniture
Ventilated handguard with 20mm top rail accepts accessories such a PEQ boxes
Realistic weight imitates the real firearm
Smooth cycling short travel bolt improves reload time allowing the shooting to fire more rounds more quickly
Full length top rail perfect for mounting optics and forward magazine caddy stores spare magazine forward of the trigger to facilitate quicker reloads
Metal alloy adjustable folding bipod, rear monopod, and stock allows user to customize length of pull
Bullpup design allows for a longer barrel while still maintaining a short profile
Specifications:
BB Caliber: 6mm
Weight: 16lbs
Magazine: 22rds
Threaded Barrel: 14mm Positive
Muzzle Velocity: ~400-420 FPS (Measured with 6mm 0.20g BBs)
Materials: Aluminum, Fiber Reinforced Polymer, Steel
Package Includes: Rifle, 2x Gas Magazine, Bipod"