Timerzanov Airsoft: Golden Eagle 8877RW Gas Shotgun
OptimusPrime
25 Nov 2022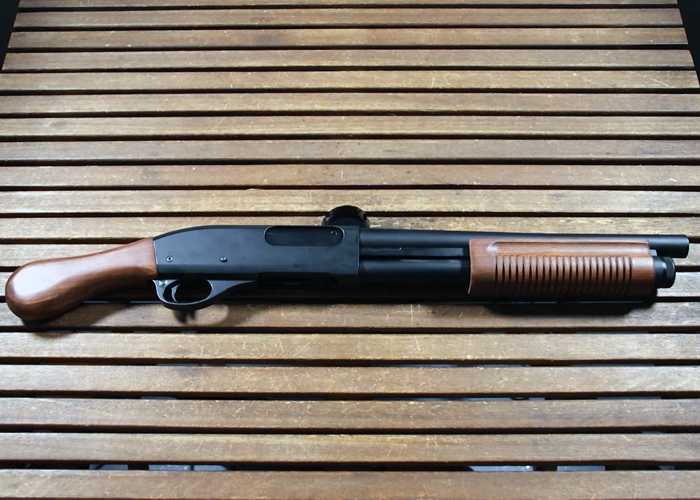 A good look at the Golden Eagle 8877RW Gas Shotgun, which is based on the Remington M870, by Timerzanov Airsoft... "Hi there ! Today I'm back with you for a new gas pump shotgun video! Here is the 8877RW from Golden Eagle, a shotgun that copies the mechanics of the Tokyo Marui M870 gas. This very interesting replica with its attractive price and its perfs out of the box will be perfect for those who do not want the Marui because it is made of metal and real wood! Have a great video everyone!
The M870 is a pump-action shotgun created by the Remington brand in the 1950s. Available in many versions and variations, it has been used not only by sports shooters but also by military and police forces around the world.
The Witness Protection 870 Remington, or WP870 presented here is an icon of American Law Enforcement. This ultra-short pump-action shotgun was used for many years in the services of the US Marshals and remains a benchmark for American armament in close protection. He appears in films such as Eraser, Enemy of the State or The Book of Eli.
This M870 model by Golden Eagle is a full metal replica of the WP870 with real wood trim for realism. With its short 12.5" barrel, it is perfectly suited for CQB. It comes with 3 cartridges with a capacity of 30 balls each, which is enough to clean a CQB properly. Its gas filling is done directly in the pistol grip.
It also has 2 firing modes: either 3 balls for each shot, or 6 balls thanks to its selector in the false breech.
This replica is compatible with Golden Eagle, Cyma, ASG, Double Eagle and Tokyo Marui cartridges."