Timerzanov Airsoft: Tokyo Marui Desert Eagle .50AE Chrome GBB
OptimusPrime
03 Jul 2022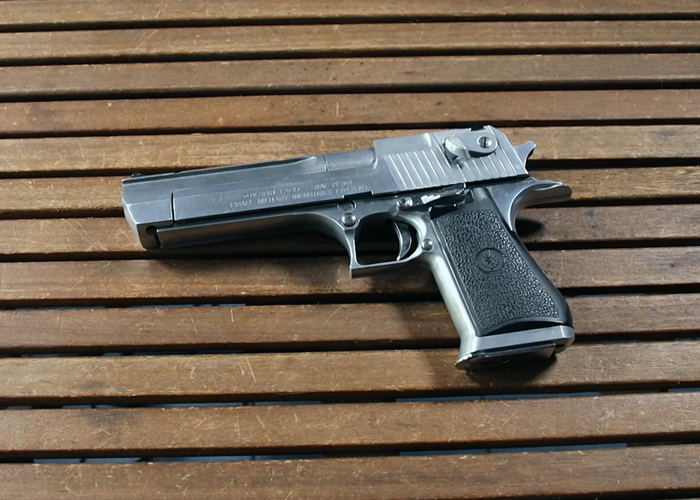 Shiny objects attract the eyes and for the eyes of Timerzanov Airsoft, it is the Tokyo Marui Desert Eagle .50AE Chrome Gas Blowbaack Pistol... "Hi there ! Welcome to this new video, today I present to you the Desert Eagle .50AE from Tokyo Marui. A replica lent to me by Vinc from Gearbox Custom Airsoft. Good video to all !
The DESERT EAGLE .50 Action-Express was designed in the early 1980s by Magnum Research, USA. Initially the production was entrusted to IMI, in Israel. Since 2009, the DESERT EAGLE has again been produced in the United States.
The manufacturer Tokyo Marui has designed an excellent replica made of ABS with a very beautiful chrome finish for a look close to full metal. There is a 27-ball metal magazine.
On the cylinder head are present the DESERT EAGLE markings finely silkscreened under Marui license.
This model has an extremely powerful Blowback system, excellent range and an adjustable Hop-Up system for breathtaking precision.
With its technique and its know-how, Tokyo Marui remains to this day the reference in terms of fist replica.
This replica is equipped with the Guarder Alu CNC kit for Desert Eagle Tokyo Marui.
And here are the other modifications made by Vinc:
Guarder external kit in brushed aluminum finish
150% Guarder recoil springs
KM-Head 1950 stainless steel hammer150% Guarder hammer spring
KM-HEAD 1950 stainless steel valve hammer
Hammer sear stainless steel KM-Head 1950
Reinforced Nozzle Guarder
High flow Guarder valve
Complete MAG spring set for D.E Marui
Thanks to Vinc AAB for loaning his replica!"