Mid-Length KA FAL RAS Folding Stock AEG
OptimusPrime
26 Jul 2013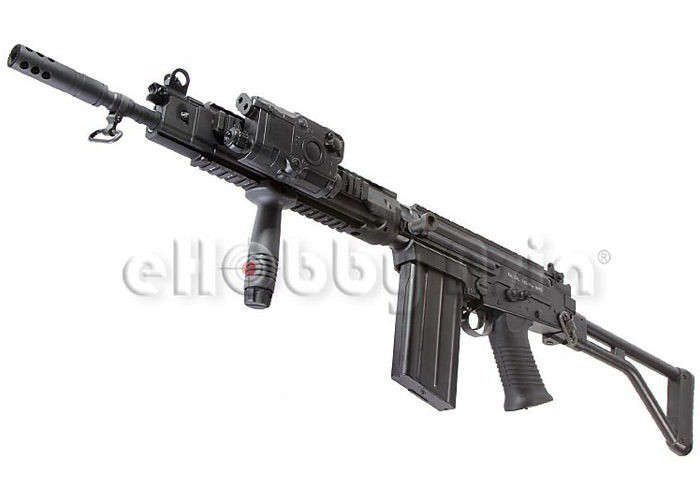 We've been getting emails as to where they can get a FAL Carbine AEG and this link to eHobby Asia might satisfy their queries... "This King Arms FAL Carbine Folding Stock is full metal constructed and equipped with scope mount base and RAS handguard. Reinforced gearbox were used. Metal parts like selector, slings and knobs were used to provide better look and texture. Moreover, each AEG carry a unique in serial number so every piece is one of a kind. Package comes with a PEQ-15 battery case and a 90 rounds magazine.
King Arms FAL Carbine RAS Folding Stock AEG (Mid-Length)
1/1 Scale High Performance Assembled Electric Powered Airsoft AEG
Aluminum; Steel; Nylon Fiber Construction
Safe / Single / Full-Auto shooting mode
Except Pistol grip, PEQ-15 Case & Foregrip, this AEG is primarily Made of Aluminum Alloy, Zinc Alloy & Steel Alloy
350mm Outer Barrel with 85mm Flashider
265mm Metal Folding Stock
295mm RAS Handguard
Adjustable Front & Rear Sight
Steel Housing magazine accommodate 90 Rounds of 6mm Plastic Bullet
Come With Nylon Fiber Foregrip and PEQ-15 battery case
6 mm Bearing Ver. 3 Gearbox
Open the Bolt to Adjust Hop-up
Able to store KA PEQ-15 Type Battery in PEQ-15 battery case
Utilize 6mm Plastic Bullet, this rifle give you a supreme accuracy on the target"